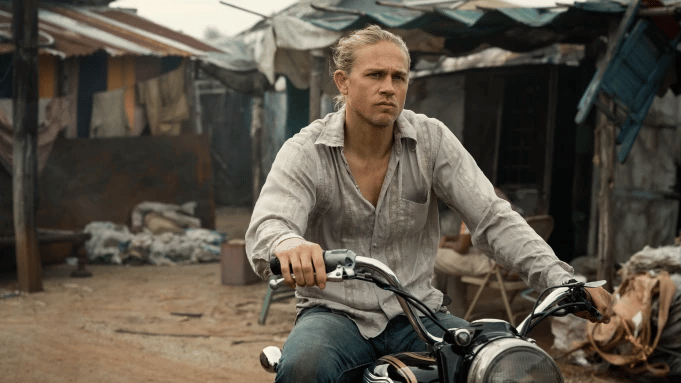 Charlie Hunnam (Sons of Anarchy, Pacific Rim) is back on a motorcycle in a first-look photo of Shantaram, a new Apple drama series set to premiere October 14.
Following the release of the show's first three episodes on the premiere date, new episodes will drop weekly every Friday through December 16 on Apple TV+.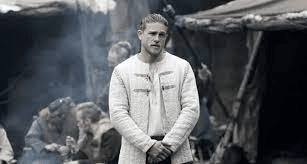 Based on the Gregory David Roberts epic novel, Shantaram follows a Lin Ford (Hunnam), who escapes a maximum-security Australian prison, reinvents himself as a doctor in the slums of 1980s Bombay, gets entangled with a local mafia boss and eventually uses his gun-running and counterfeiting skills to fight against the invading Russian troops in Afghanistan. All the while he is falling for an enigmatic and intriguing woman named Karla (Antonia Desplat) and must choose between freedom or love and the complications that come with it.
The series also stars Shubham Saraf, Elektra Kilbey, Fayssal Bazzi, Luke Pasqualino, Alyy Khan, Sujaya Dasgupta, Vincent Perez, David Field, Alexander Siddig, Gabrielle Scharnitzky, Elham Ehsas, Rachel Kamath, Matthew Joseph and Shiv Palekar.
The project has a history that is almost as sprawling as the book itself. It became a sensation in Hollywood in the early 2000s and was set up as a film for over a decade at Warner Bros. by Inifinitum Nihil partners Johnny Depp and Christi Dembrowski and GK Films' Graham King. Depp was to star and Peter Weir to direct.
Following a couple of stalled attempts to get the project up and running after the studio paid $2 million for the rights in 2004, the film was derailed by the Writer's Strike. Depp then personally jump started the process by courting the Australian-born Joel Edgerton to play the lead.
In the years since, Shantaram has landed at Apple as a series, a format which is likely more amenable to the book's narrative, which unwinds over 900-plus pages.
Shantaram is written and executive produced by showrunner Steve Lightfoot. Bharat Nalluri directs and executive produces. Andrea Barron, Nicole Clemens, Steve Golin, Justin Kurzel and Eric Warren Singer, who co-created the series with Lightfoot, also executive produce. The series is produced for Apple by Paramount Television Studios and Anonymous Content's AC Studios.