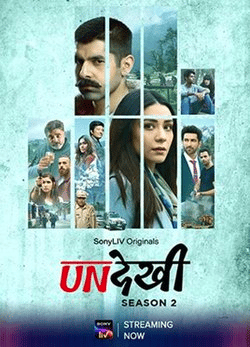 CAST Harsh Chhaya, Anchal Singh, Ankur Rathee, Surya Sharma, Meiyang Chang, Dibyendu Bhattacharya, Nandish Singh Sandhu, Apeksha Porwal, Abhishek Chauhan, Sanyandeep Sengupta, Ayn Zoya
DIRECTOR Ashish R Shukla
BLUF
The second season picks up where the first left off, with DSP Ghosh (Dibyendu Bhattacharya) and Teji (Anchal Singh) struggling to save Koyal (Apeksha Porwal) from Rinku's (Surya Sharma) clutches. Who will win this game of power, greed, and vengeance when everyone has selfish motives?
THE MEAT AND THE POTATOES
Ashish R. Shukla's second season of Undekhi, continues to be the story of the attempt of the Atwals to bury all the witnesses (Koyal and the video crew team) of Papaji's (Harsh Chhaya) homicide.
After the death of Rishi (Abhishek Chauhan) while Koyal (Apeksha Porwal) managed from escape. The influential family of Atwals continue their search mission for Koyal ,Shashwat (Sayandeep Sengupta) and Saloni (Ayn Zoya) as well.
The plot revolves around Atwal's (Papaji and Rinku) desire to expand their pharmaceutical business through a partnership with pharma company Ezra Asher CEO Samarth from Himachal to Punjab by increasing their influence on the Drug and Narcotics routes. With each character fueled by their own selfish motives, what follows is a frenzied search in which each character is eager to take down the other in this gripping tale of control, desire, and retaliation.
IN THE KNOW
So Rinku paji returns in all his volatile resplendent glory with some new transgressions and some more brilliant actors. When you watch actors like Harsh Chayya on the screen you wonder why you did not see him in such a magnificent role before.
There is not even a single boring frame in the series. The camera work, the cinematography and the direction are top notch. Every twist, every episode keeps you hooked for more. The locales of Manali are a treat for the eyes and camera work by Murzy Pagdiwala and his use of blue-ish tones throughout the series make a compelling watch.
Apeksha Porwal as Koyal has a bigger role this time than just being a tribal girl on the run, and she rocks it together with our fav Abhay (played by Meiyang Chang) who lends good support to Koyal. They perform some really well-directed fight sequences and the credit goes to action-director Raj Shinde. Dibyendu Bhattacharya is charming as DSP Ghosh, despite the fact that his role is limited this season.
Addition of new characters like Samarth and Abhay adds perfectly to the narrative.There is not a single actor who does not ace their role in this season and its such a delight watching these 10 episodes ( of 40-45 mins duration) of spectacular visuals and crisp writing.
We recommend Undekhi 2