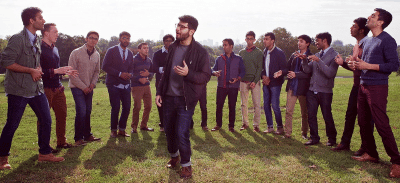 For a lot of people reading this, 25 years must be a big chunk of their live. But guys at Penn Masala are celebrating their 25th anniversary this year. That's a long time and a milestone to remember. This desi acapella band makes us so proud by not only being the first such band from south Asia but also gives us goosebumps with their performances which have mind blogging music with nothing else but their mouths. From making dreams come true by collaborating with big names from B town and having new dreams on their horizons, this band is amazing. We got them talking about how they started and how they made it so long. From being an all-male band to now having a female branch, their story is inspiring so many different ways to desi's out there who want to make it big. Read ahead for you day's dose of sunshine.
Miraal: Welcome to Desis.Live. Thank you for taking the time to be here; I know you are in different time zones. We'd love to hear more about you guys and how you got started and how many years have you been making music together?
Kushal: We started in 1996. So 2021 will be our 25th anniversary.
Miraal: I wasn't even born then.
Kushal: The way the group started is that there were four freshmen at the University of Pennsylvania who went to an a capella show on campus, and they thought, this is a really cool art form. It's becoming really popular in America on college campuses, but there's nothing really in the a capella scene that encapsulates our heritage and where we came from and the culture that we grew up in. So why don't we start a South Asian a capella group and so, Penn Masala created the genre of South Asian a capella, which has now become incredibly popular. But over the years, people have identified with the message of bridging the gap between Western culture and Indian culture. We've been really fortunate to have some great fans over the years and seen some really exciting growth so we're really excited to be where we are today.
Miraal: So would you say this is a genre Penn Masala created?
Kushal: We are the first South Asian a capella group in the world.
Miraal: You should be proud. For those of you who don't know who we're talking to, we are talking to Kushal, Partha, and Shrivats from Penn Masala, the a capella group of University of Pennsylvania. You guys are doing wonders. I've heard a lot of your songs and I thoroughly enjoy the harmony you make. What is your creative process?
Partha: When we are trying to get a new song together, a new mash up, we first start out with an idea of where we want the song to go. So what kind of emotions we want to convey, how fast or slow, how sad or happy we want it; do we want to go throwback to 70s, or modern 2010s pop music. Based off of that, we throw a bunch of songs onto a list, both in Hindi and English and explore every single combination possible and see which ones fit. Once we've decided and talked about it a little bit, we arrange the mash up and record.
Miraal: Is there a theme that you try follow especially when you're doing albums, or is it haphazard? In terms of a song, this is new or maybe this will harmonise with this and create a good mash up; is there a theme to things that you do?
Partha: It's definitely themed; I would say we always have a sort of tropes that songs within the album need to need to conform to. Any album needs to have those nice, emotional, slow love songs. Any album needs to have those upbeat songs that get people on their feet. We always have a broad direction that we need to go for on how the album needs to be shaped. And from there, we can go and narrow down our search for mash ups a little bit more. It's not constraining, but it's a direction that helps us out a lot.
Miraal: Perfect. If you had a wish list, who would be the people you want to collaborate with?
Partha: Ed Sheeran is a dream collaboration, Arijit Singh or Zayn Malik.
Miraal: Do all the band members have training in music?
Shrivats: Some members come in with 10 plus years of classical choir experience. Some people come in and it's the first time they've sang in front of someone. So it's all over the place. But one thing we do in the first couple of weeks when someone joins the group is pretty rigorous. We have an intense process that been refined over the past 25 years; we know what works and what doesn't work. And by the end of it, you definitely come out a much better singer than you were before, regardless of where you start out. In a capella you need to be able to sing in a group, and sing alone. And those aren't necessarily skills that you'll have, even if you've sung for 15 years prior. I think more important than the ability to sing is the ability to mesh with one another. If you're friends with everyone and vibing on stage and you have that sense of community, that's often what makes the song sound more cohesive and ultimately better to listen to.
Scott: When I was junior senior in the early 90s, I remember I went to see Tracy Chapman and 10,000 Maniacs at Irvine Auditorium way back in the day. My question is where do you sound the best and why?
Kushal: We have our spring show in Irvine every year. Its energy is unmatched. When Irvine is full and all of our best friends are in the audience and our parents and families fly out. We have one show on campus every year and it's in Irvine. It really means a lot to us. It's so much fun. I think that's where we sound the best.
Scott: I remember at the very beginning of the year there was a show at Irvine, where any singing group can go and perform one or two songs. Do they still do that?
Kushal: Yeah. It's called Freshmen Performing Arts night at Penn. And our freshmen were like Oh, we should do something that's like Indian a capella. So Penn Masala was conceptualised at that show.
Scott: Do you play shows around Philadelphia or go into New Jersey?
Shrivats: Last October we were in Toronto at the University of Toronto and the October before that at London School of Economics. It was amazing to realise that we have listeners all over the world. Every three or four years, we try to do a world tour of 6 to 7 cities in India as well as places like Dubai or Singapore and do a couple shows there. But majority of the time during the semester, we'll find ourselves visiting colleges around the US. Recently we had a show last year at Duke, Georgetown and Purdue. Our demographic seems to be centred for the most part around people our age, and the places where you can find those kinds of people are colleges.
Scott: Have you noticed a difference in the audiences and the kinds of reactions and reception in different parts of the world?
Partha: I think it's less about different parts of the world than it is different people. College kids are always going to react the more hype songs and the English centric songs as well. People who are older are going to react to the throwbacks and to Hindi as well. I would say it's more generational thing than geographic.
Miraal: Of all the places where you performed, which one would you rate as your best performance?
Shrivats: I think for me personally, it was in my freshman year and was within my first two months in Penn Masala. We went to London in October of 2018. We had one show which was for charity and it was a very intimate gig. We were un mic-ed and at the beginning of a room on a stage. And everyone over there was sitting together at tables. It was a completely different vibe from how it is normally at concerts. Normally, you'll hear the hustle and bustle of the audience and it might be difficult for you to get your note. But this time it was complete silence and not because people were bored or because people didn't enjoy the music. You could definitely feel they were into the music and everyone in the room was on the same level. It was a different level of emotional connection to the people in the audience. And because of that, it was definitely my favourite show. It wasn't a huge show but definitely my favourite.
Miraal: Which band or performer is you're most favourite in terms of the ones that you've opened for so far?
Kushal: In 2018, we performed at the Ghana Music Festival in San Francisco. We met Irishman Khurana, Arijit Singh and Armaan Malik, and shared the stage with them. That atmosphere was unforgettable. That was one of my favourite memories.
Miraal: You guys recently collaborated with Vishal Dadlani? How did that come about?
Kushal: We're trying to use the platform we have to really give voice to people who aren't so fortunate to have one, especially during this pandemic. And we created this collaboration with Vishal, who also felt very passionately about this cause of migrant workers in India. We connected on how we can use our music to bring real change and attention to that population who's really struggling. So we connected with Vishal sir on on this issue and we worked with him to create this original song that he wrote into an a capella. It was a really cool collaboration to meet such a respected and amazing figure in Bollywood and to put our own a capella twist on it as well as to make a difference with it in the way that we could.
Miraal: I feel like he is one of the most grounded people in that industry. He has a rock band background and understands music, like a lot of people don't. So I have huge respect for him. He's very clear on the activist side issues as well. That must have been such an amazing experience. But tell me, do you feel that with this COVID situation, you guys have to work your way around other forms like using the internet to do stuff that you were otherwise doing when you guys were in touch with each other pre COVID?
Shrivats: Definitely. Before all of this happened, we were having a show or two a month. But now, everything we do has to be online. It meant for upcoming music videos we had planned we can no longer meet in person. Some of us are in India, some of us on the west coast, some of us on the east coast. So the first video that we had, like that was evident that video was one where we had to figure out how are we Gonna still make the video engaging but do it out of the comfort of our own homes. We've also tried to expand to different platforms. Tik Tok has been blowing up and we've found a lot of success there. It makes sense since the demographic on Tik Tok is age wise, fairly close to the people who listen to our music. Because of that, we've been able to access a group of people that we didn't align to before. So in one way, it has been beneficial. It forced us to reconsider our positions. But I'm sure I speak for everyone else that we can't wait to get back on stage when it's safe.
Kushal: We do have a lot of fans in India and it's been a couple years since we've been able to do an India tour. While we do have a strong online presence, even in normal time so that we can connect with our fans, but that in person connection, we miss that as well.
Miraal: Do you feel that you will be able to get back to normal soon? Or you think that you got to continue with the business model of internet concerts for some time? How's your calendar looking?
Partha: We honestly have no idea what's going to happen. A lot of things are going to be decided by the university itself as to whether we're going to be able to get back on campus. But as soon as this pandemic is over and it safe to travel, we will be back; trying to do as much as we can. But until then we're just going to try and manage it,
Kushal: It's really a game of adapting the best we can to whatever is thrown at us. I don't think in March we anticipated anything. We were still saying, maybe we can go to India this year, maybe we can make the Summer Tour happen; we had a lot of things in the works. But just as new information becomes available, we just revaluate. And that's what we've been doing this whole year.
Miraal: People are keen to get back to normal but given the situation it's better to be safe than sorry. So if you did not have music, what would you guys be doing?
Shrivats: That's a really good question. None of us in the group are music majors. We're all business majors, computer science majors, international relations major. So we all have our academics and Masala is an incredible outlet for us to pursue other things. It's amazing that we haven't had to consider what our lives would be like without music. I would be very impressed if any other college students have had such a profound opportunity to travel and interact with people the way we do. And it's something that we're incredibly grateful for. But music is a fun thing for us. And ultimately, if we didn't have it, I'm sure we'd find other outlets, whether it's another form of music, or if it was something more related to our career path or a sport that we're interested in.
Miraal: Have has any of your band members ever taken up music as a full time career?
Kushal: We have a few who have tried their hand at professional music and we definitely have a very engaging alumni base that jam with each other. They'll put out recordings and covers and singles on their own after they've graduated, even if they're working a full time job. I think the thing about Masala is that it really instils in us the fact that music is always going to be a part of our lives. We have this amazing community beyond the four years of college that we grow close and our alumni have shown that it persists beyond graduation as well, no matter what you're doing as you're nine to five job. There's always going to be music as a part of you and there's always going to be the people who you've sung with that are there to sing with you for the rest of your life.
Miraal: So you guys haven't had a lot of women in your band over the years?
Kushal: The reason for that is the male vocal register is different than the female vocal register. When we started, it was all males who started it. So the arrangements since the early years of the group have all been in the lower vocal registers. And it's very difficult to rearrange all of the work that we've done over the past 25 years to fit a higher vocal register. There's actually female a capella group on our campus called Penn Aatma. So we have the male group and the female group of our campus.
Scott: Okay, I have a question that you you touched on it a little bit. I have a couple friends in Mask and Wig and they're really active alumni. I mean, the relationship between alumni and the current group in Mask and Wig is impressive. And they they have, I've only heard stories, they have some very strange rituals when they go back for alumni weekends and things like that. So what's it like to be a part of this group that has such rapid turnover, and the connection to the alumni and those relationships and what you do when you get together on Alumni Weekend?
Kushal: The group does have a high turnover, but our alumni society is incredibly involved and incredibly invested in our well being. They're always there if we need advice, a sounding board or anything like that.
Scott: Does that happen? Do you rely on them?
Kushal: We do. We will run things by them, like, oh, how does it sell. And there are even people who I've never been in the group with, but I have enough of a relationship with because they're Masala alumni that care about the well being of the group and they'll be reach out. Just last week, I had someone from a couple years ago text me about meeting you. They're really invested in how we're doing and how they can help. We have our Alumni Weekend on around homecoming, so in early November, and we have alumni come back and meet our new freshmen every year. And we don't have any rituals or anything.
Partha: That's always amazing for them. They get to experience a spring show from the audience perspective. They're excited to hear the new music that the next music director and the next music committee has come up with, and it's an amazing time for them to meet with the people who supported them and practiced with them for hours and hours a week with for four years
Miraal: So what is the best advice you've been given?
Kushal: One of the things going into this year was facing a lot of uncertainty to navigate this pandemic. And I talked to a couple of them and a lot of them are saying: This group is up to you to shape. It's yours and you have to take ownership of it and that the group is what you make of it. Whatever you put into it, you'll get out of it, so don't take any of it for granted and it's always there for you to shape and to make an impact wave. I think that kind of perspective of "Okay, we really have the ability to change it for the better or to do with it what we think is necessary," helped us have the confidence to make decisions or to move in one direction or another. I know that their support is there no matter what. They're not just supporting a group that agrees with them or they're not just supporting a group that does what they think is always right. They're going to support the group no matter what.
Scott: I totally get that pressure. Especially now that there's some time behind this groups that's been around for a while, there has to be some pressure to maintain the tradition, to maintain your reputation, the level of quality, etc. There's got to be that pressure. So to have someone say to you, "Hey, it's yours. Make of it what you will." That had to feel good.
Kushal: Definitely.
Miraal: So if there was one thing that you would change about the entire music, what would you change?
Partha: I think I would change the attitude that people take towards their music. They've become too focused on the money, the streaming numbers, and the marketing campaigns, everything; all of that has shifted music to become something that's tangential to the business as a whole. And I think that focusing on the art itself because we are artists. That we do this because we love the music itself, and to focus on supporting people who are creating great art, supporting people who are doing their best to make something new that people will enjoy. I think that's kind of an attitude shift that the music industry as a whole needs to take.
Kushal: I think it's something that we've been struggling with as students who are making music. We find ourselves often bogged down by how are we going to promote this or what's our release going to be like. Sometimes it just comes down to I want to make music with my friends or I just want to sing to just, or create beautiful sounds. And it feels like we can't completely focus on that because there's so much else to take into account.
Shrivats : Everything we do is managed within ourselves, whether it's managing our social media, whoever is directing our videos, whoever's coming up with arrangement, it's all a member, or a couple members of the group in charge of that. And more so in the Indian music industry than in the US, you'll see a lot of songs are associated with movies. And I think in India, you've seen this rise of independent musician, and I think that's a concept that would definitely be a lot more suitable for us in a group that we've traditionally been a part of, but are trying to evolve with.
Miraal: In your entire time within Masala so far, have you guys ever gotten into deep trouble?
Kushal: I don't think we've really gotten into serious trouble.
Partha: We're good kids. Very straight faced.
Miraal: That is on the record.
Scott: So I watch a lot of different movies and TV and things like that. Right now when I'm watching Bollywood, I am so into Mirzapur. What are you into right now? What are you watching?
Kushal: There's a show on Amazon Prime called Bandish Bandits. I just started it but the music is incredibly amazing. I haven't really gotten into the story that far but I've just been listening to the soundtrack on repeat.
Shrivats: About a week ago, I watched Luka Chuppi, fairly new Kartik Aaryan movie. I found it through the song Duniyaa. I really liked the song and I was like "Where's this from?" and I watched the movie. And it was it was really good.
Partha: For me, in terms of Bollywood, I think it's just been the classics. I just watched Zindagi Na Milegi Dobara two days ago.
Miraal: You can go back and watch that movie many times for some reason. I don't know why. So what's next for you? What's going on? What are you planning in term of music?
Partha: We're in the process of bringing in our new members and getting them up to speed. We have a couple of new things on the way but they're in very early stages. We're definitely coming up with music and kind of figuring out how we're going to put it out and produce it completely.
Shrivats: It took a little bit to figure out. We wanted to set up a paradigm on how are we going to deal with the pandemic? Is it feasible for us to produce new music, when we can't go into the studio and everyone is limited to the technology they have at home. And I think we're finally at a point where we've come up with something that works. And we're excited to finally implement that in new songs. We're trying to explore genres that we haven't done before, languages we haven't done before. So that should be interesting. We also have a lot of music just left over that's recorded and we're planning on releasing that very soon.
Kushal: And we just released Paradise and Taare Zameen Par.
Miraal: So thank you so much. It was wonderful having three members of the Penn Masala band with us, the a capella group of University of Pennsylvania, Partha Rao, Kushal Modi and Shrivats Kannan. Thank you so much for taking the time to talk to us.
Partha, Kushal, Shrivats: Thank you.
So if there is one thing to take away, its that someday your day will come. And when it comes, the difficult journey will seem magical. You can follow Penn Masala on their website pennmasala.com. they are on Instagram too and so are we. To check out all our feed and to be up to date on the latest happening of B town, celeb interviews and gossip, follow us at desislivegram. And for those who missed out the interview of the boys, do check that out on our website with all the other desi celebrities that we interviewed on desis.live. Happy watching!