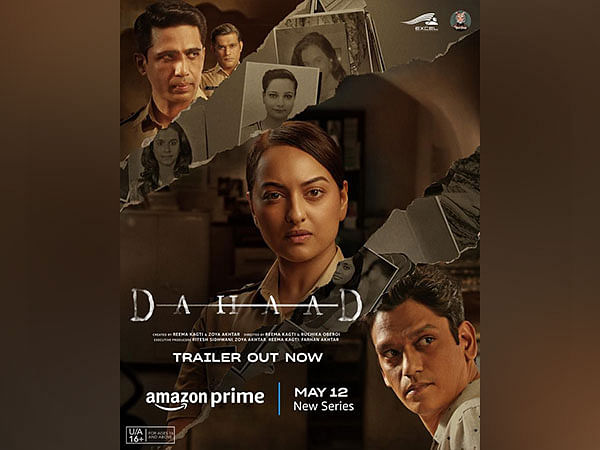 From creators Reema Kagti and Zoya Akhtar, Prime Video's new police drama series Dahaad pits a small-town cop against a menacing serial killer of women. The eight-episode show stars Sonakshi Sinha in the lead role of a tough-as-nails cop, while Vijay Varma plays the killer. Dahaad (meaning "roar" in Hindi) is set in the heartland of India, a favorite sandbox for crime storytelling in the country.
The drama unfolds when several women are found dead under mysterious circumstances. While it is initially assumed that they died by suicide, after having eloped with their partners, sub-inspector Anjali Bhaati (Sinha) discovers patterns that tie the deaths together. Suspecting the worst, she sniffs out clues that lead her to Varma's creepy antagonist — an unassuming-looking "family man" named Anand, whom she describes at one point as a "demon." He appears for the first time midway through the trailer, apparently teaching very young children a lesson on morality. "God is watching," he says quietly, warning the children to be good.
The trailer doesn't simply set up the stakes and leave the rest to the imagination; it actually shows Anjali confronting and arresting Anand. But she's met with pushback from her partner (played by Gulshan Devaiah) and other naysayers, who refuse to believe that such a regular person, a teacher, could be capable of such terrible crimes. The show also appears to address small-town Indian sexism, when a couple of youths mock Anjali, and she gives it back to them. But all references to caste discrimination and right-wing nationalism, both of which were alluded to in an earlier description of the show, are completely absent from the trailer, which ends with a rather sinister scene in which Anand repeatedly tells a woman to "smile."
Varma is coming off of arguably the most acclaimed performance of his career, in Netflix's dark comedy Darlings. Incidentally, he played a similar monster in that film as well. The up-and-comer previously appeared in Netflix's A Suitable Boy and She. He will next star in the Bollywood adaptation of The Devotion of Suspect X. Sinha, on the other hand, needs a win. Having gotten her start on the biggest scale possible — she debuted opposite the superstar Salman Khan in 2010's blockbuster Dabangg — her career has been marred by a series of unsuccessful attempts at playing leads.
Watch it here: