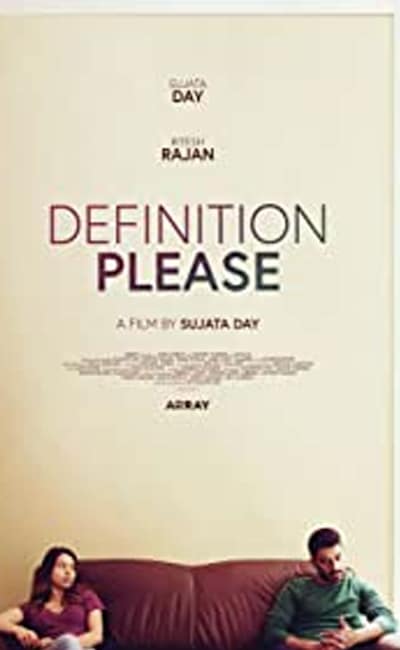 DESIS TEAM REVIEW BY: SHRIYA BOPPANA
CAST: Sujata Day, Ritesh Ranjan, Anna Khaja
DIRECTED BY: Sujata Day
BLUF: A former Spelling Bee champion makes a choice of staying in her hometown to take care of her ill mother so she can stay close to her. Her troubled relationship with her brother needs to be sorted when he visits for their father's death anniversary. Will the siblings reconcile? Story of an Indian American family growing up with the expectations of their immigrant parents and a desire to follow their own dreams. 
THE MEAT AND THE POTATOES
Definition Please follows the story of a young Scripps Spelling Bee champion and her journey to adulthood. Suffering from the loss of her father and estranged from her brother, this champion navigates coming of age by caring for her seemingly terminally ill mother and living a "typical" Indian American life.
We'd be lying if we didn't say the only initial credibility we gave this film was the fact that it stars and is directed by Sujata Day. After all, as much as we lack diversity and Indian representation on camera, We've come to notice an oversaturation in the Hollywood Indian American media and entertainment genre with Coming-Of-Age and Slice of Life stories.
However, we were pleasantly surprised with Day's storytelling but more so by the cast that helped the story come to life. Day, herself, caught our eye the most alongside her fantastically developed brother, played by Ritesh Rajan. Now Rajan portrays a character dealing with bipolar disorder BUT he specifically plays a character dealing with Bipolar disorder in an Indian household which ACKNOWLEDGES and TREATS it as well as understands the side effects of treatment.
We were taken aback more than once by the twists of Rajan's Sonny, who was a perfect fit for the role. Lalaine's Krista was the cutest sidekick to Day's Monica and Sonam Shah's Dr.Ali was such a stunning complement to Anna Khaja's Jaya. Khaja's performance deserves a round of applause for a spot-on portrayal of the dramatics and emotionality of an immigrant Indian mother.
IN THE KNOW
While the entire cast simply blew us away, we had multiple startling shocks with the music score: a commendable attempt at savoring the sounds of India but at times struggling with a beat that doesn't match the pace of the story. We'll be settling into a hospital scene waiting for news about Jaya when suddenly loud instruments pull us out of the story to introduce a "love-interest" style character and when the few seconds pass, we have to reinvest in the seriousness of the hospital environment. Times that moment by 4 or 5 and now you're losing audience members at multiple points in the story.
The settings were ordinarily beautiful, a typical small suburban town, relatable to many of us. The cinematography was well done but a warning for anyone with motion sickness causes the car scenes to shake quite a bit. Costumes are a stunning reflection of the time and culture. Overall, it was an adorable story, again and again, We will reiterate that the cast was chef's kiss, and a worthwhile watch for audiences above the age of 20.
WHAT WE LOVED
The story
The cast
Direction
Patel Store.
Chai & Biscuits.
WHAT WE MISSED
A few technicalities here and there, nothing big