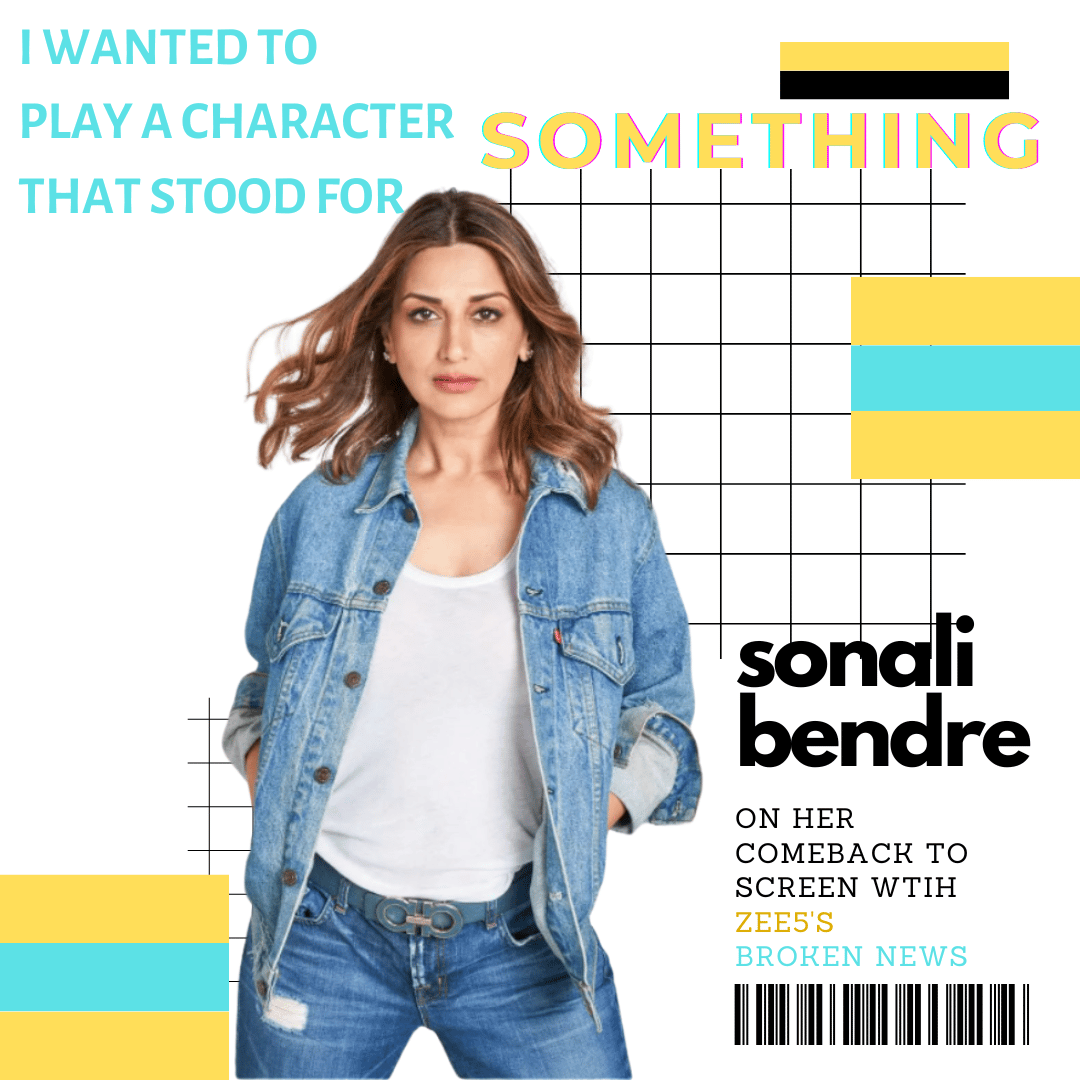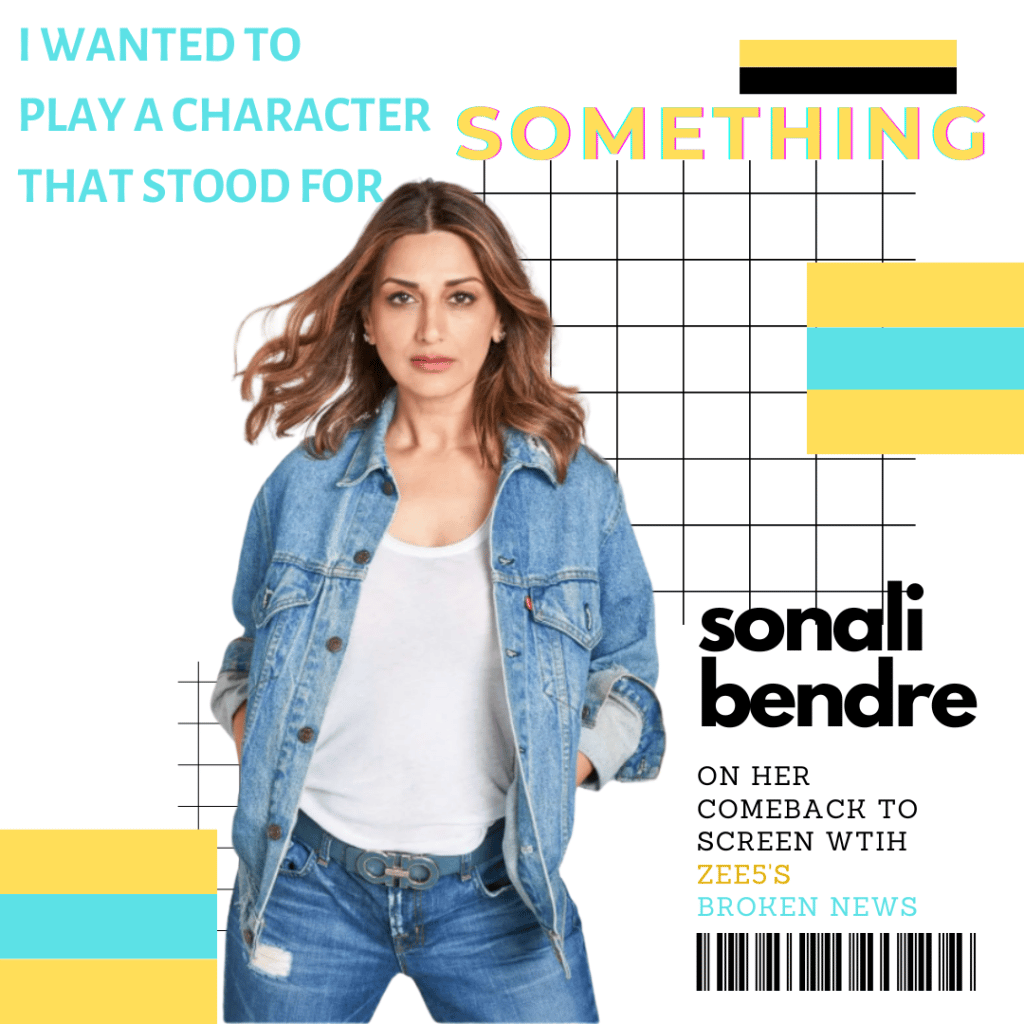 The beautiful, enigmatic Sonali Bendre is coming back to our screens, and we cannot help but be excited about it.
The first look introduces us to The Broken News cast, headlined by Sonali Bendre, Jaideep Ahlawat, and Shriya Pilgaonkar.
The Broken News Cast includes Indraneil Sengupta, Taaruk Raina, Aakash Khurana, and Kiran Kumar. The show marks Ms. Bendre's debut on the web and on the world's largest south Asian content streamer
We caught up with the actor ahead of the release of her show BROKEN NEWS on Zee5.
Broken News is pertinent today. It is about our society and the challenges ; the choices that can be made
"The show is about the breaking news culture", she says "it is about the struggles of the characters in the show. I play Amina Qureshi, the editor in chief of a news channel called Awaaz Bharati, a news channel that practices ethical journalism
WATCH SONALI'S INTERVIEW HERE
She is in competition with Dipankar Sanyal (Jaideep Ahlawat) of Josh 24/7, a news channel known for its sensational journalism. The episodes are about the choices they make, the compulsions that they face and the problems that they face, you know, and so what is happening in their professional lives and a part of it in their personal lives also, and how are they navigating all of it."
We got to see BBC One's Press here in the US way back in 2019 or so and if our audience remembers the Tom Vaughn series that was quite popular with very talented actors Charlotte Riley, Ben Chaplin, Priyanga Burford playing the journalists that Ms Bendre. Shriya and Jaideep will essay now as Broken News is the Hindi adaptation of that series in a BBC Studios collaboration with Zee5
I wanted to play my age. I do not want to fight aging. It is the inevitable. You cannot be perfect. My illness taught me that there is such beauty in imperfection.
Says Ms. Bendre, "Press was based in the newspaper industry and the Broken News is based in the television news channel world, but as you said, it was well received, and I think it was well received because it is so pertinent. And so, as this adaptation comes; it is more relevant today. It is about today's society. It is about what is happening today. And what are the challenges, the choices that can be made."
She continues, "And what is the hope? Or is there no hope? But where are we today? It is what I would say is issuing a mirror to the society. And I hope the viewers kind of see it and identify and understand that these are the issues and if you understand how the or how it works behind the scenes, how the wheels, work together or do not work together
pines Ms. Bendre "I think a lot of us as viewers will be able to understand and be able to identify the information that comes to us is just that- information and requires considerable fact-checking before it becomes real information. The show basically shows the audience a mirror to the society and asks you the question- what kind of a viewer are you?"
"The premise in the Broken News is very clear. Media is a business. And the business is economics.
Economics is demand and supply. If you do not demand it, there is going to be no supply for it," expounds Ms. Bendre
"People are watching what they are demanding. In this information age, people are mistaking information for knowledge. Knowledge is something to be revered, Knowledge is something that you want to acquire. But information is just information. Now that information can become positive can become negative. It's up to you how you use it," she explains
After being through a very difficult personal journey and staying away from work while recovering for such a long time, how did Ms. Bendre decide on Amina Qureshi to be her come- back role? What made her pick this role?
This stellar woman of grit smiles through her years of pain and replies, "When I came back and I said I want to do roles and I want to get back to fiction, It took me a while to find the role that I would be playing only because there were a lot of stuff that was coming to me."
"I really wanted to move on in this phase of my career to where I would be able to be more than what my image had been. I wanted to play my age. I do not want to fight aging. It is the inevitable. You cannot be perfect. My illness taught me that there is such beauty in imperfection. And I'm sure there are people who will agree with me and will like the imperfection," she explains.
I want it to be not about having this perfect face and I want to play my age. I want to play a character that has a voice. I want to play a character that stood for something and had a voice that stood for something that was real." she clarifies, "and that is because a human being who is real is never perfect."
"It is not only good or only bad. I wanted that realness in the character that I played. I wanted it to be a story which will have some sort of a message and yet give hope. And hopefully we can tick all those boxes for me with this show.", she smiles conclusively
While this was her first time working for a streamer like Zee5, did she feel there was a difference between how the movie industry works and how the world of the web streamers work?
Not too different," says Ms. Bendre, "It is like a long film. But the beauty of working with streamers like Zee5 is now that you know there are just so many new voices that are out there. When I was working in movies, we were what you would call pan India actors."
"I worked in Tamil, Telugu, Kannada, Marathi movies but when you do that work there are only a certain kind of stories that come your way. With the streamers, we now have an opportunity where we can tell different stories. ", she continues
"We have a voice that we never had and a platform for our voices that did not have. A place where we can tell our stories,Which is very exciting to me as an actor because it gives me a whole new range of characters to choose from."
The beauty of working with streamers is that we now have an opportunity to tell different stories
She elaborates, "I wanted to work with the voices that are new, and those who were doing different kind of work. I am learning so much from them because they work differently. The way they approach their roles is different, the way they work on the set is different so it's so exciting for me because I'm learning so much new from the new generation of actors like Shriya and Jaideep.
Set in the fast-paced and challenging environment of the television news industry, Broken News will immerse viewers in the personal lives and the constant professional dilemmas facing its characters. The series follow their lives as they attempt to balance