CAST: Ishwak Singh, Karan Jotwani, Amala Akkineni, Mahima Makwana, Gaurav Pandey, Gurpreet Salini, Parmeet Sethi,
DIRECTOR: Abhishek Sinha
Varun Agarwal's novel "How I Braved Anu Aunty and Co-Founded a Million Dollar Company" could make a fantastic film for Gen Z, providing insights into the gig economy, social media marketing, and smartphone-based apps. The story unfolds using voiceovers and direct audience engagement, revealing the struggles of Gaurav (played by Ishwak Singh). Gaurav is discontented with his dead-end job, even though many would consider his decent salary and party lifestyle as living the dream.
However, Gaurav's bigger problem is Anu Aunty (played by Meghna Malik), whose overachieving son Arjun (played by Karan Jotwani) is rapidly climbing the success ladder. Anu takes every opportunity to belittle Gaurav to his mother (played by Amala Akkineni), portraying him as an unambitious loser.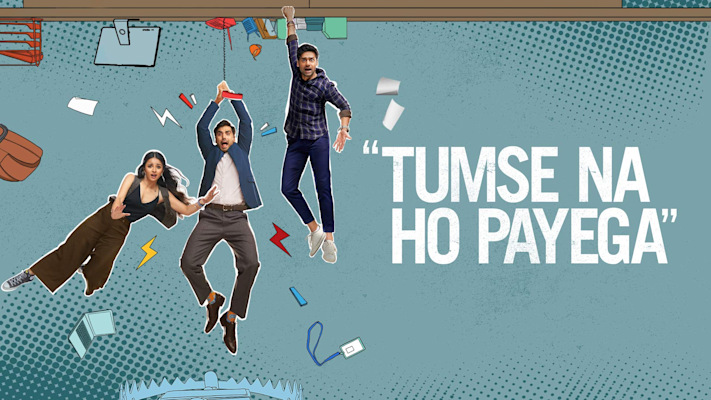 Arjun is also in a relationship with Devika (played by Mahima Makwana), who happens to be Gaurav's crush since school. Gaurav's way of coping with these challenges is venting to his friends Mal (played by Gaurav Pandey) and Vaghela (played by Gurpreet Salini) at the bar or the tea stall.
The story takes an interesting turn when Gaurav gets the idea to supply home-cooked meals to hungry bachelors working in Mumbai's corporate hubs after complaining about the canteen food. However, this startup plan seems late to the party in the era of home chefs proliferating.
The film rushes through the typical narrative of struggle, success, conflict, loss, and recovery, catering to its attention-deficit target audience. A greedy investor (played by Parmeet Sethi) plays the role of the villain, while the cooking moms are portrayed as angels (with delectable food shots). Gaurav and his friends learn the valuable lesson of avoiding the mirage of quick success. Even the friendly tea seller (played by Omkar Das Manikpuri) supports them with free beverages and seed money.
The film strikes a balance between humor and life lessons on "How Not to be an Arjun."
Its relatively short runtime and the youthful energy of the cast keep the audience engaged, even though Ishwak Singh may have delivered better performances in previous projects. Devika, as a social media manager for celebrities, brings an interesting dynamic by being as assertive as the male characters and treating a relationship with an upwardly mobile guy as one of her achievements.
The story ends with Arjun going to B School at Harvard and the Ma's boys being a case study there.