Two Indian-Origin Singers, Lara Raj and Ezrela, Among Final 20 Contestants in HYBE and Geffen Records' The Debut: Dream Academy
Lara Raj and Ezrela, both of Indian origin, have secured their spots among the elite 20 contestants who have advanced to the final round of The Debut: Dream Academy, an ambitious audition program. The program, a collaboration between global K-pop powerhouse HYBE and American record label Geffen Records, aims to discover fresh talent for an upcoming global girl group. This exciting announcement was made during a livestream event streamed from IGA Studios in Santa Monica.
HYBE, known for managing the phenomenal K-pop sensation BTS under their subsidiary Big Hit Music, joined forces with Geffen Records, a subsidiary of Universal Music Group, in a groundbreaking venture in November 2021. Their combined efforts yielded an overwhelming response, with over 120,000 submissions received. After careful consideration, the final 20 contestants were chosen for The Debut: Dream Academy, marking a significant step towards shaping the future of K-pop and international music.
The forthcoming global girl group, whose name will be disclosed at a later date, is designed to follow the esteemed K-pop training and development system. Over the past year, the selected contestants have undergone comprehensive training in Los Angeles, embracing the same approach that has propelled K-pop to worldwide acclaim.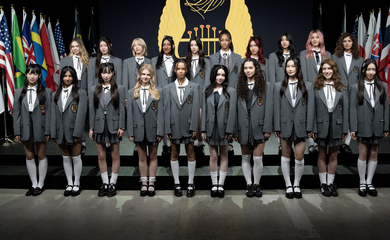 At the press event, Lara Raj introduced herself with grace: "Hi, I am Lara Raj. I'm 17 and I hail from India in LA." Notably, Raj was also part of Michelle Obama's Global Girls Alliance campaign "Day of the Girl" in 2019, showcasing her previous involvement in empowering initiatives.
Ezrela, 20 years old, introduced herself as an Indian residing in Australia, underlining the diverse and international nature of the competition.
This dedicated group of contestants will undergo a year-long training regimen, meticulously documented in an upcoming untitled Netflix documentary series. Directed by the accomplished filmmaker Nadia Hallgren, known for her work on Netflix's documentary "Becoming," this series is scheduled to premiere in 2024. Produced by HYBE, Interscope Films, and Boardwalk Pictures, the documentary promises an in-depth look at the transformative journey these aspiring artists are embarking upon.
Starting from September 1, the audition program will be available on YouTube, offering viewers an opportunity to witness the participants' growth over nearly three months. The grand finale of the audition program, determining the final composition of the group, will take place on November 17.
To foster closer connections between the contestants and their supporters, the global girl group will also become a part of the South Korean social media platform Weverse. This integration will provide fans with an intimate glimpse into the experiences and growth of these 20 talented individuals as they navigate their way through the audition program.