Main Cast: Kim Nam-Gil, Lee Da-Hee, Cha Eun-Woo, Sung Joon
Summary
The latest Korean drama, Island, is based on a webtoon and follows the story of 3 individuals fighting against evil spirits on Jeju Island. The drama kicks off by introducing us to a young priest, Johan (played by Cha Eun-Woo), performing an exorcism and a legend of the man in black stabbing the savior, a woman in white. Johan eventually returns to Korea at the direction of the fellow priests and befriends Wo Mi-Ho (played by Lee Da-Hee) while in Jeju.
Wo Mi-Ho is the sole heir and chaebol of the Daehan Group. Despite being the only daughter of the Chairman, Mi-Ho constantly fends off her succession rights as fellow family members vie for her role. After a viral incident of her flipping an individual, Mi-Ho faces public backlash and is sent to Jeju to volunteer as a teacher at Tamra High School. However, things suddenly go awry for Mi-Ho the moment she exits the Jeju airport. She suddenly encounters a monster bride in the parking lot and is terrorized until she is saved by Van, a mysterious man in a black suit.
Van was born in ancient Jeju, but was the sole survivor of a demon massacre. He has survived centuries later after he was converted to become a demon slayer and protect the local humans from the evil spirits and demons on the island. However, upon saving Mi-Ho, Van realizes that she has an identical resemblance to Wonjeong, a young girl from his childhood. As Mi-Ho's life continues to be at risk as demons continue to follow and attack her, she eventually hires Van as her personal bodyguard. As Van spends more time with Mi-Ho he realizes that she is a reincarnation of Wonjeong, however Mi-Ho has no recollection of her past life and interactions with Van.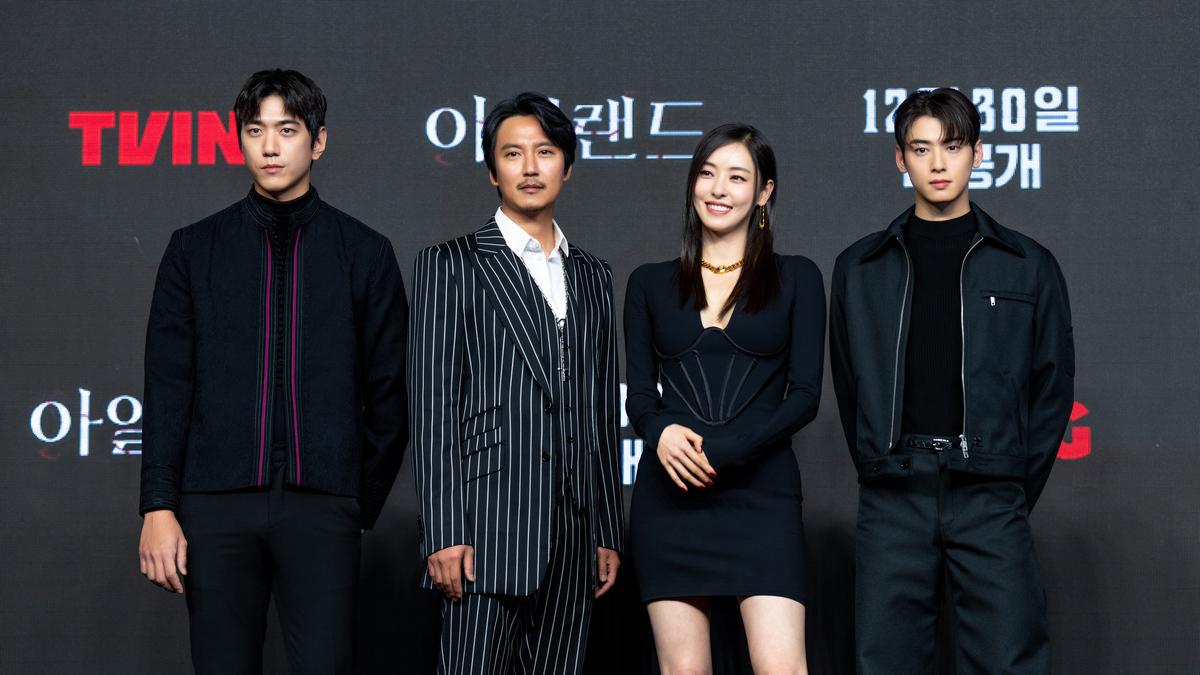 Thoughts
Currently the first half and 6 episodes of Island have been released, however this series has been pretty interesting so far. Although it takes a little bit of time to wrap your head around Van's past and the concept of demon slayers, Island is filled with plenty of suspense as you slowly piece together the 3 main characters' lives. It's interesting to see Van and Mi-Ho interact in the present and then be transported back in time to when they were children. As the series flips from past to present, I can't help but wonder when Mi-Ho will remember her past life and how she will react. Each episode is filled with plenty of suspense, action-packed fight scenes, and character development as all 3 characters' must confront their pasts as they are faced with difficult decisions.
Although it's a little weird to see Cha Eun-Woo as a priest, his acting as Johan is phenomenal. He does a great job at balancing the seriousness of being a priest with the youth and energy of being a 24 year old. His witty responses to Van and his cheeky attitude toward Mi-Ho make his character so endearing and provide some necessary comedic relief.