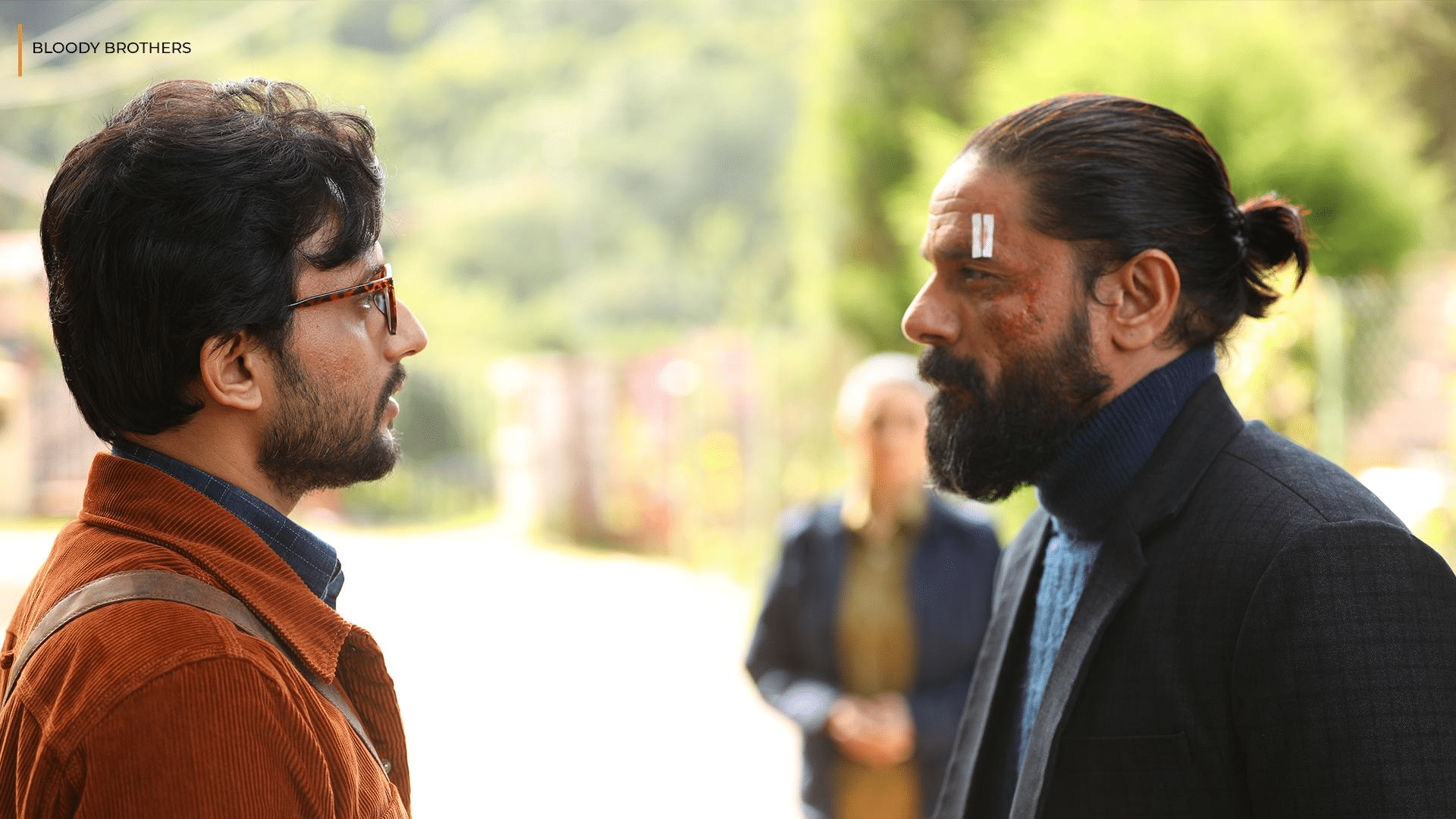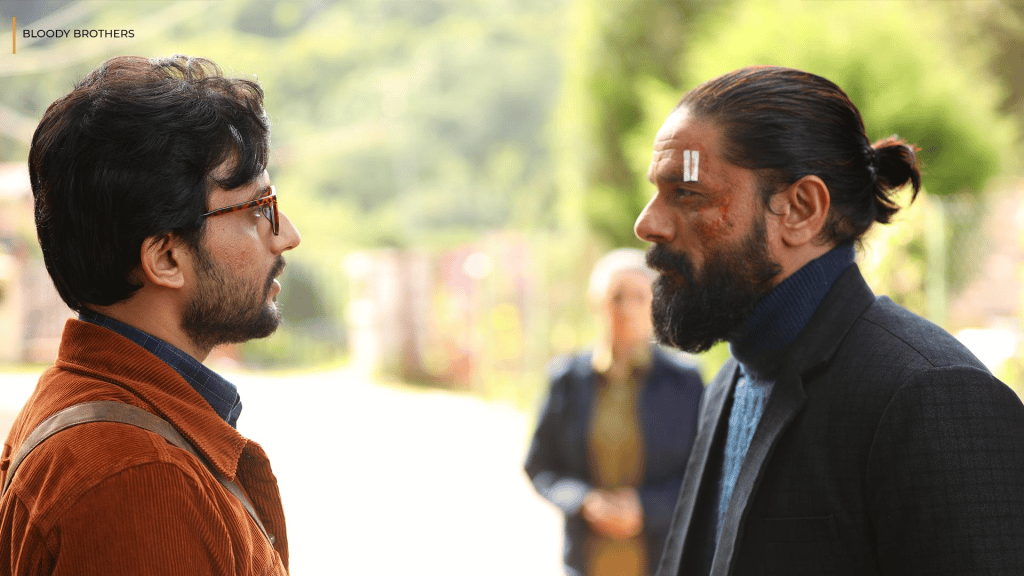 Bloody Brothers is a Dark Comedy web-series written by Siddharth Hirwe, Anuj Rajoria, Riya Poojary, Navnit Singh Raju and directed by Shaad Ali. It's a remake of British TV series Guilt. This web-series is produced by Applause Entertainment Pvt. Ltd starring Jaideep Ahlawat, Mohammed Zeeshan Ayyub, Tina Desai, Shruti Seth, Jitendra Joshi, Maya Alagh, and Satish Kaushik
Says Jaideep Ahlawat, "Bloody Brothers. are two personalities that are poles apart. I'm playing the elder brother, and he's more kind of a person who wants to be and needs to be in control. But after an incident, things are going haywire and there's a chaos in the story. So, yeah, in a nutshell, that's how it's going to be."
Says Mohammad Zeeshan Ayyub , 'Basically, I'm playing the younger brother, and he's just the opposite of Jagi. My character is an introvert, and he has always lived under his elder brother's shadow and he cannot make his own decisions
.His brother always stops him from that.
He's a poet. He loves reading poetry and is a hopeless romantic, innocent person and reacts to situations like a teenager rather than an adult.
So I think that is what makes it really interesting. The relationship starts to change, once the story starts to unfold. And how these contrasting opposite personalities of brothers deal with it and what comes out of it.. So I think that is what is intriguing. The two characters which are polls apart and are caught in a common situation.
The movie is a mixture of the dark comedy and family drama and then a thriller. And I think it's a good combination", says Jaideep.
"In the very beginning, you could feel the dark comedy in the situation, but as the story unfolds, it becomes serious because it's become messier and more careful so it's a good combination in terms of all these emotions and there's a new thing about this story.
The characters and how they are related to each other and their own lives and others lives. That makes it very interesting."
Adds Zeeshan , 'You can see the intensity of the character, but I think it's very different. I haven't played a character which is so vulnerable and kind of jumpy in situations and who doesn't understand how to react to situations. I think it has that newness and at the same time because it's drama also it has its moments, but nobody is taking anybody seriously. I think that is what creates the humour and that is how it becomes a dark comedy and not just a dark thriller. There is also a drama about two brothers. So I think it's a very different character."
Did not watch guilty
"Says Jaideep, "I have belief in the script that I'm working on, not the book or maybe some series or whatever the adaptation or the make of it because I believe that it might mislead me or not let go of my imagination towards the story or the characters and because I believe these are two different societies."
He continues, "In a way, the reactions of the original Guilt or those characters must be different and the characters reacting to those situations will be different because of the societies. So I did not watch that. And I think the adaptation is very nice, but I think we put much more local characters into it and many more twists into it. I cannot really compare the two but I really like this one because this is the only one I know."
WATCH THE INTERVIEW HERE
Zeeshan agreed with him , "We follow the same school of thought in that sense. So even I haven't watched the original and I don't know what changes they have added or what are the things that they have taken out. I only know the script that I got – Bloody Brothers and I don't know anything about Guilt.
Bloody Brothers was the script that I have to work on and that is all. "
This is the first time we are working together on a large scale but we have known each other for at least twenty years
We got a chance to know each other better
Says Jaideep, "We did work together earlier but that was for a very short period of time like two scenes together and even those times we didn't talk. But this is the first time we are working together on a large scale and we know each other for at least 20 years ,being friends, close to each other and admirers of each other's work."
He adds, "This was a chance to sit with him and talk to him for a longer time. The shooting was almost spread over two months and we bonded again.
I didn't work on the bonding of the brothers in the show because the moment I heard that Zeeshan was there.I knew I didn't need to know more. I got to know him deeper in these months."
The moment I heard that Zeeshan was in the show, I knew I didn't need to know more
Zeeshan adds , "Yes, Jaideep was one of the major reasons that I said yes. I was definitely very excited about the script and the fact that he was playing my elder brother. I straight away called him and asked him are you doing this and he said yes I am. So then we decided let's do it and at that time it was it. We had a blast on set and off set and those months we were just partying and getting to know each other not just as actors but as friends and that was that. The very first scene that we shot together, after action, we knew that the chemistry is there and everything is there and we knew that we were right. We don't need to be worried about the chemistry at all. "
Working with Shaad Ali
This is the first time I was working with Shaad Bhai and he is a fun-loving guy and knows what he wants from his character. He is the kind of guy who will give you freedom to portray the character and will allow you to ask him questions.On sets he cannot be serious at all and if you are crying, he will cry and if you are laughing he will laugh. He has this own sense of cinema, music and the sense of humour he has, for both of us it was fun- Jaideep Ahlawat
When I met him, I knew straight away that he was a cool guy. So when you are doing something like Bloody Brothers, which is a dark comedy, it is very important who your director is. When you are playing cold humour, the nuanced reaction to the situation and all of that so you need to have a director who understands that and can enhance those moments so with Shaad sir again he is a chilled-out guy on sets, laughter, good music, discuss anything about cinema and music and all other things. – Mohammad Zeeshan Ayyub