Award-winning filmmaker Kanu Behl's next Hindi feature 'Agra', an Indo-French co-production by Saregama India Ltd, UFO Production and O28 Films received a spectacular response at the prestigious Directors' Fortnight, Cannes Film Festival, 2023
~The film received a 5-minute standing ovation~
~Agra is Kanu Behl's second film to have its World Premiere at the Cannes Film Festival after his debut film Titli (2014) and the only Indian feature selected in Directors' Fortnight this year ~
The film also marks the comeback of Aashiquiactor Rahul Roy and also features Priyanka Bose (actor of the Oscar-nominated film Lion)~
Mumbai, 25th May 2023: Award-winning filmmaker Kanu Behl's next Hindi feature 'Agra' received an overwhelming response at its premiere screening at the Directors' Fortnight, an independent section of the Cannes Film Festival, 2023. 
 The film received a 5-minute standing ovation.
The spellbound audience applauded the film with a standing ovation and looked very receptive to the genre and the film itself. The premiere was attended by a large section of Indian and International media along with people who had reserved their seats for the premiere well in advance.   
An Indo-French co-production by Saregama India Ltd, UFO Production, and O28 Films, Agra is the only Indian feature film in the Directors' Fortnight.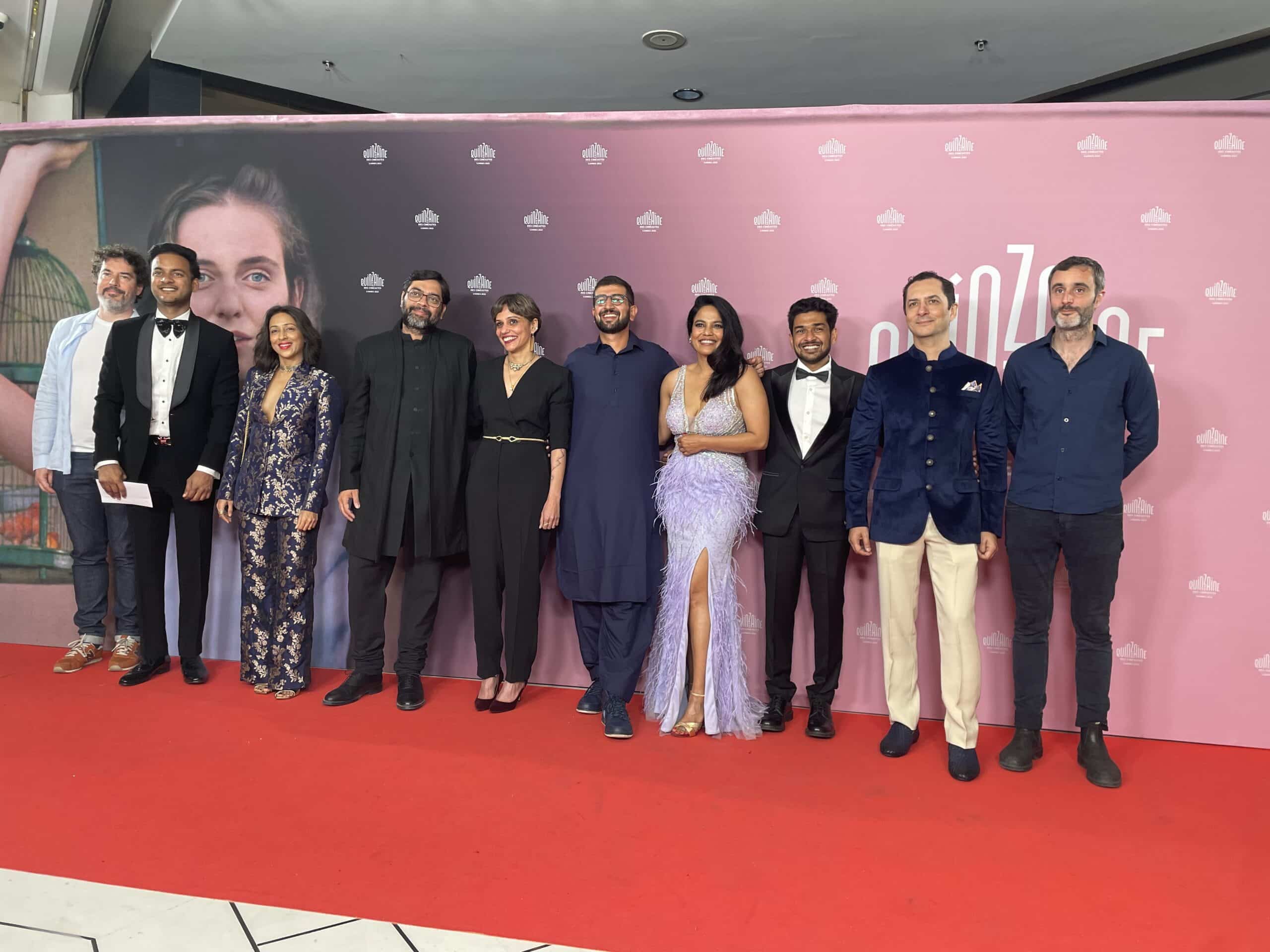 The festival, highlighting independent films from throughout the world, a free-spirited, non-competitive selection, began on May 16, 2023 and will last until May 27, 2023.

Agra is Kanu Behl's second film to have its world premiere at the Cannes Film Festival after his debut film Titli which premiered in the 2014 Cannes Un Certain Regard section.  
Agra boasts of an ensemble cast headlined by Rahul Roy (Aashiqui star) who makes a comeback with this film. It also features Priyanka Bose (actor of the Oscar-nominated film Lion), a debut actor Mohit Agarwal in a lead role, Ruhani Sharma, veteran actors Vibha Chibber, Sonal Jha and Aanchal Goswami in pivotal roles. 
The film, written by Kanu Behl and Atika Chohan, is an exploration of sexual dynamics within a family, and the deep dystopian fractures created in a modern India fast shrinking into pigeon-holed spaces.
It was developed at 'PJLF Three Rivers residency program – in Italy, with the prestigious 'Cinema du Monde' film fund backing it. The film was also part of the FBR section of the Viewing Room at NFDC's Film Bazaar, 2022.
Kanu Behl, the writer-director of the film says, "It was overwhelming to see a story that took me on a very personal journey, received with such love and warmth on the global stage. 'Agra' reflects a very specific milieu but the story it tells about the politics of sexual repression and the tangled skeins of desire, is universal and that's what the audiences responded to. I feel truly rewarded that the film's journey has begun on such an uplifting note. To see it being celebrated in the prestigious Director's Fortnight at Cannes gives me hope that it will open the way for difficult conversations about things we don't address in our homes."
Siddharth Anand Kumar – Sr. VP of Films & Events at Saregama India Ltd. says, "The premiere of 'Agra' at the Directors' Fortnight at Cannes was a matter of great pride for us. As a narrator of contemporary truths, Kanu Behl has done a great job and as a studio unafraid to experiment or take risks, we feel proud to have backed this film. The fact that it has been received at Cannes with so much love is very encouraging and we hope to make many more brave films that say the unsaid and explore uncharted territories of the human psyche."  
Synopsis
Guru (25), a sexually repressed young boy, lives in a small house in Agra. He sleeps in the same room as his mother, and on the upper floor his father lives with a mistress. In an already tiny house, the only available space is the terrace on the upper floor. Guru insists that he loves Mala, an imaginary girl, and will marry her and live with her in a room on the terrace just like his father does with his mistress.
'Agra' then, becomes the odyssey of a young Indian man's sexual coming of age as he goes from courting an imaginary girl; to sex chatting with an unknown girl online; to finally bedding a 40 year old cripple woman and 'falling in love with her', ending up having sex with for the first time. As everyone else in the house fights for the terrace to be used for their own material gains, Guru struggles with his sexuality.
DIRECTOR'S BIO/PROFILE OF KANU
After dabbling in radio, copywriting and acting, Kanu Behl studied at the Satyajit Ray Film and TV Institute, Kolkata, majoring in Film Direction. His first documentary 'An Actor Prepares' (2006) premiered in competition at Cinema du Reel, France. Next, he directed and produced the doc short 'Three Blind Men' (2007) for ZDF and ARTE, commissioned at the Berlin Film Festival. This was followed by 'Found Him Yet?' and 'Over Thresholds' (2008), documentary features commissioned by NHK, Japan. A Berlinale talent campus alumni and twice nominated for the Berlin Today Award, in 2010 Kanu dove into fiction.
His first major foray was the critically acclaimed LSD (Love, Sex & Betrayal) which he co-wrote with Dibakar Banerjee. In 2014, his debut feature 'Titli' premiered at Un Certain Regard, Cannes, going on to win major 8 international awards including the NETPAC and the Best First Foreign Film (2015) from the French Syndicate of Cinema Critics. His follow up short 'Binnu Ka Sapna' premiered at Clermont-Ferrand Short Film Festival and won the prestigious Student Jury Award.
His sophomore feature titled 'Agra', an Indo-French co-production with the prestigious Cinema du Monde film fund backing it, is set to premiere at Director's Fortnight, Cannes Film Festival. And he's in post production on his third feature titled 'Despatch', starring Manoj Bajpayee and produced by Ronnie Screwvala's RSVP.
An international itinerant, Kanu's career is clearly divided into two halves – the early years grounded in a solid documentary influence, culminating in his fiction pieces which borrow from this deep love for creative documentary, both thematically and stylistically. 
ABOUT SAREGAMA INDIA LTD
Saregama, the erstwhile HMV India, has been in the entertainment business for over a hundred years. It is the oldest music label in India with the biggest music repertoire across all genres and languages and is also a leading producer of fiction content for Indian TV channels.

ABOUT  YOODLEE FILMS
Yoodlee Films is the studio arm of Saregama. Since its inception in 2017, it has produced over 25 feature films in various languages including Hindi, English, Tamil, Malayalam, Punjabi and Marathi, many of which have made their way to numerous festivals of repute, including Busan (BIFF), Rotterdam (IFFR) and Tallinn Black Nights. Closer home, Yoodlee has won three National Film Awards – two for Hamid (2019) and one for the Tamil film KD (2020). 
Yoodlee films has stormed through the regional markets and is working with the biggest stars in the Malayalam, Marathi and Punjabi industries. In 2022, they released 4 big films namely, Zombivli, (Marathi) Padavettu, (Malayalam) Oye Makhna (Punjabi) and Kaapa (Malayalam). The films performed well at the box office and now are available to stream on OTT. 
The Yoodlee brand of "fearless filmmaking" has found favour with audiences and critics alike with 13 films on Netflix, 4 on Disney+ Hotstar, 3 on Zee5 and 2 on Amazon Prime Video.
Yoodlee has now entered the web show space with Hunter- Tootega Nahi Todega starring Suniel Shetty on Amazon MiniTV and United Kacche starring Sunil Grover on Zee5. Both the shows have pleased the audience and entered the Ormax top 5 streamed shows of the week in the first week of their release.
ABOUT  UFO PRODUCTION
The company UFO was created in 2009 by William Jéhannin and Stéphane Auclaire with the main activity of distribution of films in theatres. Today, the catalog of UFO has about fifty titles – fiction, documentaries, of different nationalities. Subsequently, UFO Production was created by William Jéhannin in 2015 to strengthen the viability of the production activity within UFO.
Our first production was John McEnroe: In the Realm of Perfection, a documentary by Julien Faraut about the famous tennis player John McEnroe, presented at the Berlinale 2018. The State against Mandela and the Others, a documentary directed by Nicolas Champeaux and Gilles Porte about the trail of Nelson Mandela, was presented next at the Cannes Film Festival 2018.
Currently, UFO Production is debuting its first fiction feature Agra, the new film by Kanu Behl, director of acclaimed Titli, at Director's Fortnight and developing Les Sorcières de l'Orient, the new project by Julien Faraut. 
ABOUT  O28 FILMS
O28 Films was created by Kanu Behl and is focused on producing original, transgressive work that highlights Indian and global independent voices that need support within the fast-changing entertainment landscape.