Cast: Vikram as Aditha Karikalan, Karthi as Vanthiyathevan, Trisha as Kundavai, and Aishwarya as Nandini
Director: Mani Ratnam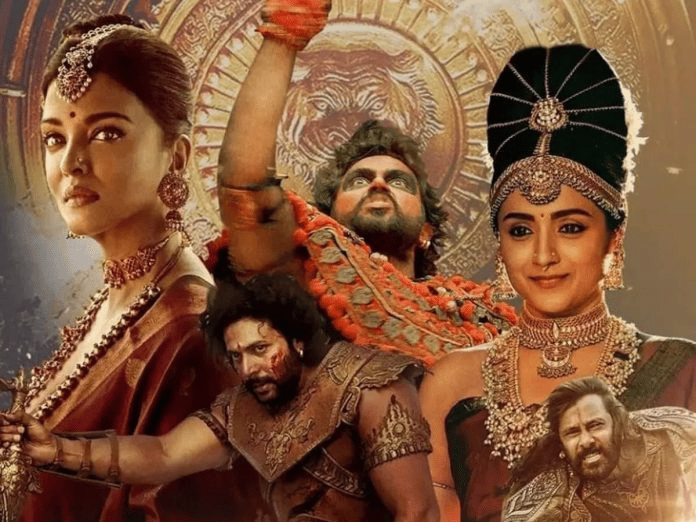 Medieval princes, vengeful lovers, and a kingdom under threat. Ponniyin Selvan: 1 brings Kalki Krishnmurthy's novel to life but it requires a 5-year history lesson to follow along.
The Chola kingdom is under attack and it's up to the three holders of the crown to save it. Emperor, Sundara Cholar, crown prince, Aaditha Karikalan, and his younger brother, Arunmozhi Varman, rely on a singular messenger to help them stay in contact while they deal with internal and external threats.
We'll also throw in some love interests, well because… why not, right? Aishwarya Rai Bachan plays the vengeful and alluring Nandini, ex-lover of Chola prince, Aditha, who he left behind to uphold his duties to his kingdom and subjects. We're also graced with a spy in love with a stunning and intelligent Chola princess, Kundavai, where South-Indian actress, Trisha, makes an appearance. Surprisingly, Bachan's character is not all shy-blushing-bride. Turns out, her hate at Aaditha for leaving her behind turns to hatred for his kingdom, and a plan to take it down, inside-out.
As we see more and more of these cross-over actors between South Asian movies and shows, we can't help but become more desensitized to their emergence. If anything, we've started to become more critical of their ability to language and genre switch. In no other context would we pit women against each other, but Aishwarya outshined Trisha to the max in her role. Every look, eyebrow raise, and quiver of her lip was intentional and motivated to a degree that Trisha struggled to uphold.
The grandeur of the book was upheld to every degree with Mani Ratnam's direction and production. While there were characters overlooked, the movie adaptations of any novel lack in comparison to the details and imagination of the OG literary masterpiece. The main protagonists had plenty of time to shine with a spotlight on the older brother in the first half and a beautiful transition to the younger brother right after the interval.
However, be warned, before you watch it. Take a history class… or seven.