CAST: Alisha Weir, Emma Thompson, Lashana Lynch, Stephen Graham, Andrea Riseborough, Sindhu Vee
DIRECTOR: Matthew Warchus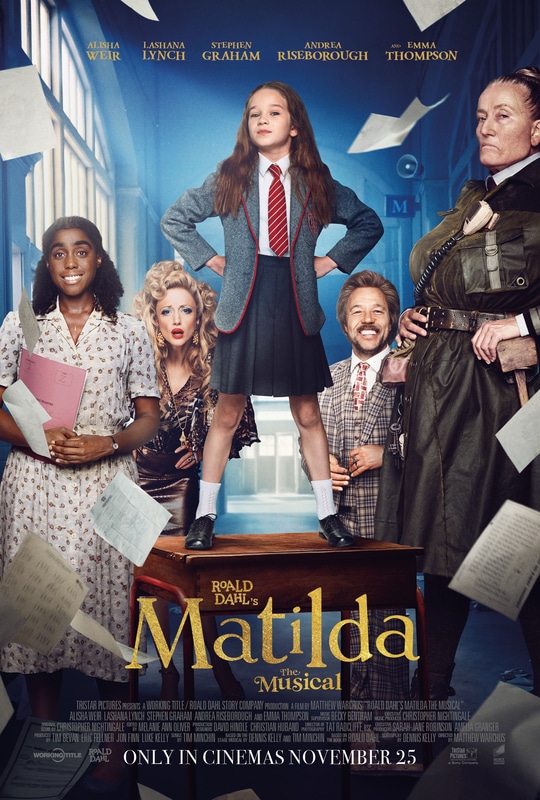 "To change the world, it takes a little genius…"
So says the opening title card for the newest iteration of Roald Dahl's classic children's book Matilda. Released simultaneously in select theaters and direct-to-streaming on Netflix, Matthew Warchus' Roald Dahl's Matilda the Musical is a fun and family-friendly musical about the power friendship and found family.
An extraordinary young girl with an extraordinary mind, the titular Matilda Wormwood (Alisha Weir) dreams of a life filled with fantasy and wonder to escape the harsh reality of life with two unloving parents. She lives in her books, the stories supplied to her by the local librarian Mrs. Phelps, a fitting performance by Indian comedian Sindhu Vee. One day, Mr. and Mrs. Wormwood send Matilda off to Crunchem Hall, run by the horrible and tyrannical Agatha Trunchbull (played to supreme excellence by a prosthetic-faced Emma Thompson). Her only saving grace is the meek but kind Mrs. Honey (Lashana Lynch), who recognizes Matilda for the special little girl she is.
So begins our heroine's journey as Matilda makes new friends, cultivates her imagination, and learns that blood is not always thicker than water when it comes to family. The themes in this film, though sometimes overtly sung, were a poignant and gentle way to present tough subjects to a younger audience: bullying, the importance of standing up for yourself, your friends, and what's right, and embracing the things that make you "you."
With a stellar cast and superb performances, Matilda the Musical is an altogether enjoyable and heartwarming family film for all ages.