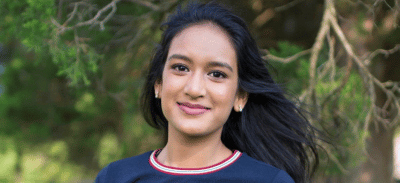 What do Miss India DC, Carnegie Mellon University student of business administration, a co-founder of two assisted programs and a fight against human sex trafficking have in common? The answer is Shriya Bopanna. This desi young lady has accomplishments under her belt that are well beyond her age. From taking up pageantry during the pandemic just to promote a cause that was close to her heart to building clinics in Nepal and India, Shriya is one amazing person who still wants to go out there into the field and see what she can do to make lives better. Our team from desis.live had a revealing cha with Shriya and got to know what drives her, what she enjoys watching on tv and about her plans for the future. Here is an excerpt of the conversation.
Miraal: Welcome. We're here with Shriya Bopanna, Miss India America for year 2020. Shriya, Welcome to the show. We are desis.live. Tell us more about yourself.
Shriya: So I am, as you already mentioned, Miss India America 2020. I'm also an undergraduate student at Carnegie Mellon studying business and that I feel is my main identity.
Miraal: And how did you get started on Miss India America? What got you going?
Shriya: Everybody has their own quarantine hobbies. I just happened to pick up pageantry. Some people read books, some people bake cookies, and I picked up a crown. It's very casual.
Scott: Let's talk about that. Because just to take up the pageant, what was it about the process that interested you? And secondly, did any of this happen? These are strange times. So was any of it real or was all of it done virtually.
Shriya: All of it was done virtually. The main reason that I actually got into pageantry is I did want to do it when I was in high school about 2017. I almost sent in the application for States, and then I was too nervous. And I chickened out, because I was like, oh, walking across the stage like that, I don't know how to do that. I've never walked in six inch heels. I don't know how to do any of that. So I got too scared and backed out of it. Now that it's virtual during quarantine, I decided maybe this will give me some time to be in the comfort of my own home surrounded by my family who's cheering me in the background of every video, and be able to take that step forward to actually go ahead and pick up pageantry.
Miraal: Very interesting. And so what is the process of doing this entire thing? Do you have to qualify against many other contestants with it?
Shriya: There were a couple contestants in Miss and Mrs. When it came to States, I competed against two and when it was nationals, I had 15 girls against me. We had quite a bit of training to go through for States. We didn't have as much of guideline, there weren't times when we had to come in for training for interviewing and speaking, they kind of left all of that to us. If we wanted to have a pageant coach, it was up to us, if we wanted to have a walk coach, again, completely up to us. They didn't mandate any of those things. But when it came to States, they did have some training sessions. I would have to log in and they would mention, for the next round, you're going to do evening dress, please make sure to keep it to this amount of time within this space, please send us a sample video of what you're going to say, you have to wear these colors and also make sure you cannot talk beyond these guidelines, but you can talk, there are certain things you have to mention. So there were a lot more specifications for nationals than there were for States.
Miraal: Oh, wow. It's a long process yeah.
Shriya: I would say a month or so from start to finish when you are sending in the videos of yourself doing resume interviews and calls. All of it takes a whole month in itself.
Miraal: So what's the next step? What do you get to do now?
Shriya: I'm about to graduate from Carnegie Mellon, actually. I'm very excited because I am entering the job force.
Miraal: Congratulations.
Shriya: Thank you. Fingers crossed. I do hope to get into a graduate program. My parents both have their masters so it's always been a dream of mine to get my. I am currently considering a master's in broadcast journalism and I'm weighing those options and I'm not sure which one I want to take up
Scott: You'll do great in either no question. You will be fantastic in either one. But I think broadcast journalism, you're a natural.
Miraal: You should you should get internships right away, pursue your goal.
Scott: I would like to if we could just for a moment to go back and talk about the pageant. One of the things that that stood out from our earlier conversation was what you thought the hardest thing was about – it was not what I would have expected. So can you tell us what the hardest thing was.
Shriya: It's the one thing nobody expects, but it's the walk. And I know, nobody expects that. They always say it's the interview, or it's getting your philanthropy correct, or getting ready for what you're going to say on stage. But it really is your walk, because it's a whole choreography, and I was very lucky to have danced in the past. So I picked it up really quickly. But I did have someone train me on my walk, and it was crazy. There are mandates in pageantry that you have to wear at least 5.5 inch heels, six is the average. Usually most girls do strike in six inch heels. Yes, if you see Miss Universe or Miss World, they're all starting in six inch heels at least.
And then on top of it, you have to learn how to walk a very specific way. There is the hip movement, there's a leg movement, there's the cross, and then there's the facials. And then once you put them all together, you choreograph a whole routine. First, you have to learn how to balance the weight. And it's crazy because you're only balancing your weight on one foot at a time in order to make the appearance of it like a glide. And then once you learn that, they teach you how to put one foot in front of the other. So now not only are you balancing and shifting weight of your body from one foot to another, you're doing it in a straight line, it's kind of like walking on a tightrope. Then you have to add hips because you know your natural body movement isn't enough, it has to be exaggerated on stage. Once you've gotten that down, you can't look down anymore. You have to look and flirt with the audience as we like to call it. So you have to start getting your facials in shape. And once you've done that you learn spins, you learn slow mo and you learn hair twirls it's all choreography, it was absolutely insane. And I found that so difficult.
Scott: That is just amazing. You're a senior of Carnegie Mellon University, you've got your own TV show, and you have a cause. And yet, it's the walking that's difficult.
Miraal: I didn't know about the TV show.
Scott: It's the perfect lead in; tell us about the philanthropy in your cause.
Shriya: My philanthropy is actually human trafficking. And I specifically zeroed in on sex trafficking for my pageantry. And my platform supports the Save Our Stars Foundation. Save Our Stars is supporting victims of child and female sex trafficking in India and Nepal. We basically have a clinic. Last summer, we built a clinic in Sanga, and we populated it with medical professionals and we have medicine. And actually this past weekend, I was able to get a video tour of that place and it looks so great. And they apparently started housing maternity boards. I think, just because it's so rural, and they don't really have access to a lot of facilities. Yeah, they started using the hospital for multiple things, which I'm very happy about. It's serving so many purposes beyond what I expected. And now we have recently joined the DC Human Trafficking Task Force and are on path to joining the United Nations as an official partner.
Miraal: Brilliant. That's a lot of good work. That part of the world, it is a very, very big issue.
Shriya: Yeah, did you know that apparently, after 40,000 people who are taking into the human trafficking rings, 15,000 of them are children who are never found again. And those are only the numbers that we we've heard reported from these rural areas, where these people are saying, My child has gone missing, I've never seen them again. So we don't even know how many people do or don't actually speak up about what's happened to their kids.
Miraal: And it's not only girls as boys as well as young boys as well.
Shriya: Of course, all children are affected by it.
Scott: That's horrific.
Miraal: It's terrible.
Scott: So let's transition and this is still very serious but it is exciting at the same time, that you now have a television show. Walk us through now how you got to your TV show.
Shriya: So I am trained by Miss Nepal US Surabhi Khanal, and she won her title in 2019. She was my coach throughout my pageantry process. She also has a TV show; a segment called Social Justice with Surabhi on Fox Five Plus. So I was speaking to her about it and she mentioned that her TV studio was interested in picking me up for a show as well. And I was like, absolutely, of course, because they had heard about my cause, they heard about my pageantry, and they felt like I was the perfect person to have a space to voice all these concerns and to talk about advocacy. So that's how I ended up working with Fox Five Plus.
Miraal: How's the experience?
Shriya: So far, I have done everything virtually because COVID. It's been hard because I haven't been able to have any guests in the studio. I have to talk to them, oversee them and get to know them that way. But because of that, I have been able to reach out to some pretty amazing people. Normally, we have our guests come in from the DC, mostly the DMV area, because they do have to come to the studio physically. But because I'm on zoom, I don't have that restriction. So I just had a very popular DJ, Dr. streamyx, from California, do my first episode. My second episode stars, more yet to tell Miss Universe Australia, and she called in from Australia for that one. It was amazing to be able to know people that I normally wouldn't get to talk to.
Miraal: Amazing. That's a lot of work.
Shriya: I'm totally flattered. Thank you.
Scott: We talked about what's next. You have the clinic in Nepal. And now what's going on? What's the next step in that clinic? In that network process? What are you doing now?
Shriya: So aside from our clinic in Nepal, my personal initiative is to start one in rural India. We are currently reaching out to organizations that are actually working on human trafficking and sex trafficking in Andhra Pradesh and looking into rural areas to build our next clinic.
Miraal: I can connect you to Dr. Rogers who used to be the head of data science at Walmart. And he had an organization in Delhi, where they would literally enter the red light areas and rescue girls. It is a big mafia nexus between the cops and these brothels and brokers. Their lives were in danger at some point and they will literally risk rescuing kids and bringing them to a home that they build so that they can re-skill the kids and aid trauma coaching for them. He works with the criminals and basically counsels them out of the criminal mentality. It is a great resource and I'll connect you with them.
Shriya: Please, I would love that. And it's also commendable; coaching people to pursue a different mentality and a different lifestyle.
Scott: Let's move on to something a little more positive to end the interview with. What do you do when you need to get indulgent and little escapism? We talked about movies and TV, the ultimate silly escapism. That's what I do. So what have you been watching lately?
Shriya: In Bollywood I actually watch a movie a night with my mother and I have for about a month. We actually started watching a show. It stars Rohit Saraf. I believe it's called Mismatch.
Miraal: Yes!
Shriya: The show is so adorable. We just finished Episode Five yesterday and we're doing six tonight. And that's the season finale, which kind of makes me sad, because now I have to wait for season two to come out. So I don't know how anything ends.
Miraal: It was a space that was missing in Indian shows. The show is so it's nice and warm and fuzzy and yet it's so contemporary.
Shriya: Yes, I was so surprised. I think the one thing that kind of threw me off is the way that they actually talk about sexuality the most. And because there is like a lesbian couple or at least a hint at a lesbian couple.
Miraal: And Bollywood shows have normalized it by the way. There's so much content in Bollywood that normalizes lesbian relationships and LGBTQ relationships.
Shriya: Then Scott also mentioned that Ludo is the next step and I totally trust his recommendations.
Miraal: You know what I'm really looking forward to is January 15, Tandav – that's gonna be a political thriller on Amazon Prime with Saif Ali Khan and Dimple Kapadia amongst other people. Oh my god that looks the trailer looks amazing. I'm just waiting. So normally we get the link a couple of days in advance so that we keep the reviews ready. The series drops and we start reviewing so it's a race to watch and review for a job but I'm so looking forward to reviewing. So looking for Pankaj Tripathi too.
Scott: Yeah, he's a great actor. He's just a force of calm, because so many Bollywood shows and movies, like, there's so much going on and then they break out in song and dance. And then there's him, he's just an even keel. Whether he's a good guy or a bad guy, he's you can't ruffle his feathers. He's just…
Miraal: Well, in two days his movie is coming out, it's called Kaagaz in which he's playing a lead role. By the way, he's the lead in a movie. So long road has moved away from you know, stars to actors. And I think that's a big jump. Do you have any Bollywood fans?
Shriya: I would not say I know of any.
Scott: They know you.
Shriya: Yeah. I would say that I wake up to my Instagram comments sometimes and, I'm sure they exist. I just don't know who they are.
Scott: All right. So how about Western shows? What Western shows that you've been watching that you enjoy? We talked about Wonder Woman; did you watch Wonder Woman 1984 ?
Shriya: Not yet. I didn't get to it.
Scott: Anything else you've been watching that's been fun?
Shriya: Yeah, I have been binge watching Riverdale. That's my Western series that I've been following since like season one. I can't get myself out of it. I'm just such a heavy Riverdale person. I even dressed up as Veronica for Halloween two years ago.
Scott: All right. I respect that.
Shriya: So I can't say too much on the Western side. That's probably about it. I spend a lot of my time with Bollywood movies.
Scott: I watched a ton. I just went through my Netflix and my prime watch lists and there's not a lot on the western side that I'm excited about now, especially because I have to. Its part of what I do now. I review these shows and these movies. I'm going through my Bollywood phase, and I'm really enjoying it. I'm seeing this whole side of content and culture and storytelling that I hadn't quite seen before. And it's been a lot of fun. I talk to my wife about these movies and these actors and actresses, and she looks at me, I've never heard of any of this. Well, we're trying to bring it to the masses In America.
Shriya: I love the culture.
Scott: It's fascinating. And I didn't really know much about Bollywood. I knew what the stereotype was that they were the big productions with the song and dance and you still you still get some of that and its fun and it's silly. It's great escapist, just fun, but there's a whole other side to it. It's just unbelievable. Magnificent storytelling, technical brilliance, the shots and the lighting, the beautiful actors and actresses. It's been fascinating.
Shriya: Absolutely. I think I made the mistake of working backwards in my Bollywood career. I started with all the new movies and then went to the DDLJ and Kabhi Khushi Kabhie Gham. Everybody's like, have you seen this one? And I'm like, no. And then I have to go back and watch Om Shanti Om.
Miraal: I did that too. I figured out Shah Rukh Khan was a thing when I watched Don 2. And then I had to go back and watch all the early movies like DDLJ. And literally, I didn't know he existed before I watched Don 2. I discovered Shah Rukh Khan and he's a phenomenon. And then with a lot of other actors as well, for example, Pankaj Tripathi, I really did not know existed till I watched Mirzapur. I then went back and checked his career graph. And then you look at the kind of work he's done and you're astounded.
Scott: He's been in so much over the past 18-20 years. He just goes all the way back.
Miraal: Yeah, I didn't know. And he's so phenomenal. You just notice them. And also, I think 2020 has been the year of the actors. It's been a breakout year for independent artists, it's been a breakout year for everybody creating content. It's not been such a great year for the bigger stars because those movies aren't getting made. Even when they're getting made, they're getting released, they're getting level chance off the audience by getting released on streaming platforms. So that kind of levels the ground for so much content. Because if the content is bad, and the actor is great nobody is going to watch it.
Shriya: I completely agree with that. I actually was one of those people who skipped Mulan because I am a huge fan of all Disney movies. I didn't watch Mulan no matter what streaming service it was on because I was like, Oh, it's just like another remake of the cartoon. And instead, I spent my time on new releases by some of my smaller friends who we're just getting into content creation. So I completely agree with that.
Miraal: Yeah, this year has been the year of people, literally, everybody's creating continents and families doing singing, dancing, and everybody. Yeah, people have come up with new skill sets.
Scott: Very interesting things are going to come out and have come out and will continue to. 2020 was, no question a dumpster fire over a year in most ways. But in a few ways, it was extremely productive and prolific. And people thought differently. And they did different things with their time and, and that not just at the level of the individual or the family of the household, but all the way up through the industry. There's some very interesting things, interesting music coming out.
Miraal: So yeah, totally, totally, still producing out of his bedroom working the day and producing at night. And yeah, it's been the year of the independent artists and people that wouldn't have otherwise had a chance to be in the spotlight, they got to live level field with people who were already there. These combined has blown things apart. And I like it. I love it. Well, where do you see yourself going with this crown that you have now? What else do you want to do with this? What is the way forward? I mean, do you get to go to India and do stuff and do you have to do all of that as a part of this crown?
Shriya: So I do not not part of this crowd, unfortunately, because a lot of my work does reside with the American population. Moving forward, I do actually want to go ahead and visit the spaces in India and Nepal, where we have built these clinics. The issue is because of the pandemic, we haven't been able to go and see any of it. But my mother and I are planning a trip by end of 2021 to actually go visit Nepal for the first time, I've never actually been in Nepal before in my life. And I want to take that two, three mile trek off into the world roads, you know, off the scary bridges into these areas to actually see how the clinic is doing myself.
And then go and speak in India with some organizations and see how we can start building one in rural Indian spaces. I don't even know where we want to build it. So I feel like I just need to talk to the locals, figure out what they need and where it's needed the most and start from there. So I do want to do a lot of groundwork. I think that's where, I face the most backlashes from my own family. But I think it's the most meaningful work, to actually go speak with those who are directly affected by it.
Miraal: That's amazing. That's amazing. Scott, do you want to take this last one?
Scott: I think we've covered it. I mean, I've, I really have a good sense of, and I think we've we've covered all the you know, what you want to do and where you want to go. And I would like to, I should say this, I would like to close by saying that. And I can probably speak for Miraal, I'll let her speak for herself. But I'm just… you're an extremely impressive young woman. And no matter what you do, and where you go, you will be a success. And you're the sort of person that when I talk to you, I have hope for the future. And I want you to know that, I'm extremely impressed with everything that we've talked about and that you've done. So thank you, thank you for giving me hope in these times that feel sometimes just feel really scary.
Shriya: Thank you so much for those kind words and also for your faith in me. I think that's really what drives me forward is the support of the wonderful people around me. So I'm glad that this crown has brought us closer together.
Miraal: We're so proud of you and keep going keep doing what you're doing. Anything we can do for you step in or promote or whatever else you seek, we're here for you always. And just reach out and we'll make things happen. And thank you so much for making the time again to be with us.
Shriya: Of course. It's always such a pleasure to Talk with all of you. And thank you so much for having me again. I really appreciate you sharing my story.
Miraal: All right, guys. Shriya, it was fun having you. Thank you so much for making the time again, and we'll see you around.
Stories like that of Shriya gives us a hope for the future. Its amazing to see how ordinary people can accomplish extraordinary things, if only we can drive ourselves to it. So here goes our dose of inspiration for the day. And for all those looking for some entertainment, don't forget to check out Scott's recommendations of TV shows and the exclusive reviews for all things from TV shows to Bollywood movies out there only on desis.live.