Hit Disney+ Hotstar series "Aarya" by Ram Madhvani is returning for a third season and is being filmed currently.
An adaptation of Dutch show "Penoza," where a woman has to join a mafia gang and avenge her slain husband, the series is headlined by former Miss Universe and top Bollywood star Sushmita Sen, for whom season 1 was a triumphant comeback after a five year break due to illness. She plays the title role of Aarya Sareen, a fierce mother who has to keep her family safe from the world of crime.
We've got the first teaser for the season, which was first announced midway through 2022. We can also reveal it is now shooting, again under the Hotstar Specials originals banner.
The short, stylized clip focuses on the titular Aarya Sareen (Sushmita Sen) in powerful boss mode. First, we see her painted nails loading handguns and lighting a cigar, before the camera switches to a full length shot of the crime lord smoking and generally looking ready for action.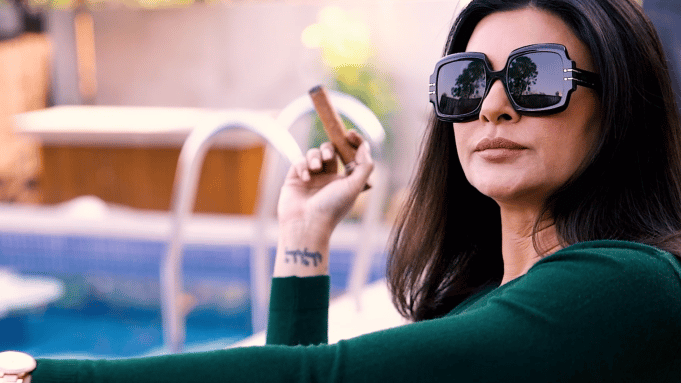 The first season was nominated for best drama series at the International Emmy Awards. The Hotstar Special is produced by Endemol Shine India and Ram Madhvani Films.
Sen said: "It is a new dawn for Aarya Sareen, and she is fierce. In season 3, she is going places and starting her own story free from the obstacles of her past. Reprising the role of Aarya is like slipping into old jeans but for a brand-new journey. It feels great to be back with Ram Madhvani and the Disney+ Hotstar team, can't wait to return the love and appreciation viewers have showered on 'Aarya.' "
The new seasons asks: "Is she in danger or is she the danger?"
"Walking on the sets of Aarya Season 3 makes me feel at home and gives me a sense of empowerment," said Sen. "I'm grateful to the entire team at Disney+ Hotstar, Ram Madhvani Films and Endemol Shine India for the vision of creating Aarya and taking it to newer heights with every season."
"Getting to and commencing Season 3 of Aarya is too special for me and my team," sais series creator Ram Madhvani. "I'm grateful to our audiences who showered the series with so much love and stayed invested in the journey and evolution of Aarya Sareen. I can promise them they are going to ask for more seasons after this one."
"Gripping, relevant and hard-hitting, Season 3 will take this story forward with its many characters, multiple fractured relationships, small intimate moments and effective back stories," added Rishi Negi, CEO, Endemol Shine India.