Main Cast: Song Hye-Kyo, Lee Do-Hyun, Im Ji-Yeon, Yeom Hye-Ram, Park Sung-Hoon, Jung Sung-Il
Summary
The Glory is a South Korean drama following the revenge story of Moon Dong-Eun (played by Song Hye-Ko) after she was heavily bullied by Park Yeon-Jin (played by Im Ji-Yeon), an entitled young girl from a wealthy and influential family, and her gang of bullies. Despite experiencing heinous and inhumane bullying, including being repeatedly burned with a hair curler, Dong-Eun feels helpless as the perpetrators are left unpunished. She eventually attempts to transfer schools and cites school violence as her reasoning. However, Yeon-Jin's mother successfully bribes Dong-Eun's mother to officially change that the transfer request is due to personal reasons. Dong-Eun is then abandoned by her mother and she drops out of school to escape the bullies and support herself. However on her final day of school, Dong-Eun confronts Yeon-Jin and promises that she will dedicate the rest of her life to getting revenge on Yeon-Jin and the other bullies.
Despite not graduating from high school and working at a kimbap shop and textile factory, Dong-Eun continues her education to prepare for the GED equivalent. Dong-Eun eventually attends a university and becomes an elementary school teacher. Fast forward to the future, the former high-school bullies are successful with their lives as they inherit their families' wealth and achieve their high school dreams. Yeon-Jin marries a successful and incredibly wealthy businessman and eventually has a daughter, named Ye-Seol.
Although there are many steps in her plot for revenge, Dong-Eun eventually befriends Kang Hyeon-Nam (played by Yeom Hye-Ram) and successfully unearths a devastating secret regarding the chairman of Ye-Seol's school. Dong-Eun leverages this information and becomes Ye-Seol's home-room teacher and begins playing mind-games with Yeon-Jin and the other school bullies as she threatens to expose their past deeds and ruin their lives.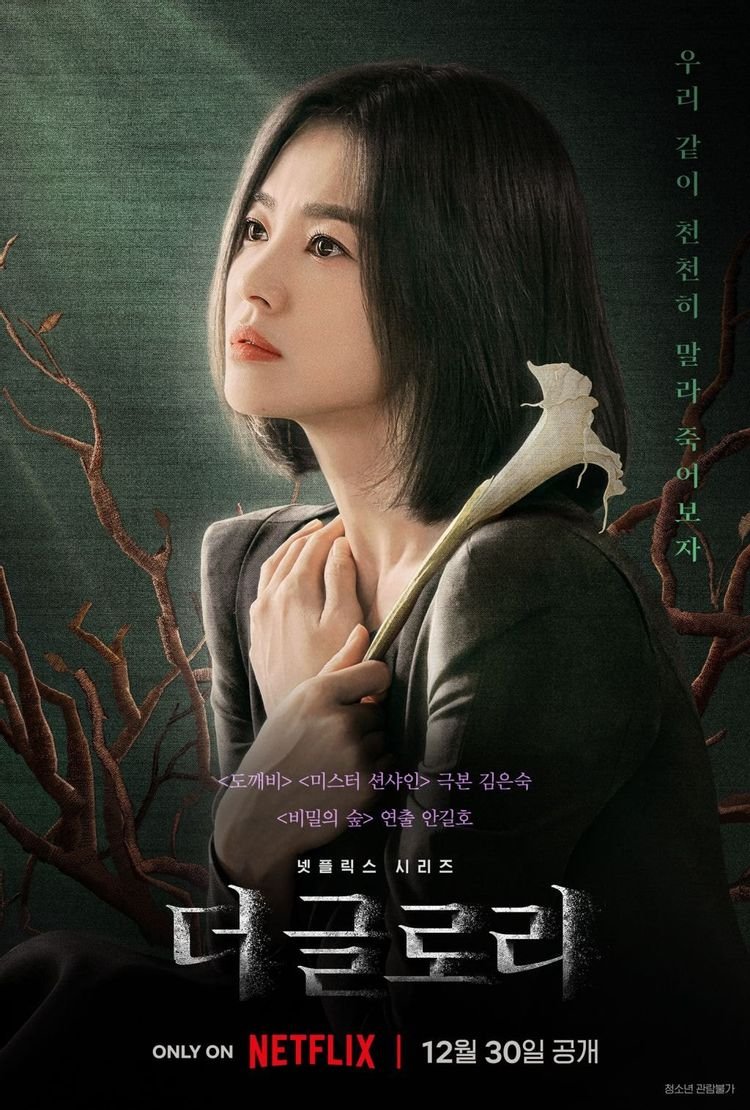 Thoughts
Currently only the first 8 episodes of The Glory are released on Netflix, with the second part released this March, but this drama is crazy. The level of detail and pure dedication that Dong-Eun has poured into the last decade to avenge herself is surreal. She has thoroughly tracked each one of the bullies' private lives and knows all of their secrets and interactions and is biding her time for the perfect moment to take everything away from them. Although she seems cold and distant, Dong-Eun successfully manages to befriend key individuals and develop strong alliances who sympathize with her revenge journey.
Also, Song Hye-Kyo does a phenomenal job playing Dong-Eun. She does a great job at portraying a focused, level-headed individual who has only experienced hardship. Her icy demeanor as she plays psychological tricks on Yeon-Jin and the bullies really elevates the entire drama as you realize how many times the system failed to protect her. Although there are plenty of unexpected twists and turns thrown Dong-Eun's way, she successfully navigates these challenges and even use some to her own advantage.