CAST: Kay Kay Menon, Avinash Tiwary, Nivedita Bhattacharya, Jitin Gulati, Nawab Shah, Vivan Bhathena, Lakshya Kochhar, Kritika Kamra, Amyra Dastur
DIRECTOR: Shujaat Saudagar
Amazon Prime Video's "Bambai Meri Jaan" takes on the familiar story of Dawood Ibrahim's rise in the 1970s Bombay underworld and his eventual departure from the city. This web series is the first to fictionalize the gangster's early life and spans from the mid-1960s to the mid-1980s, with some scenes set in the 1940s. The show boasts an exceptional cast that brings authenticity to the turbulent history of the megalopolis.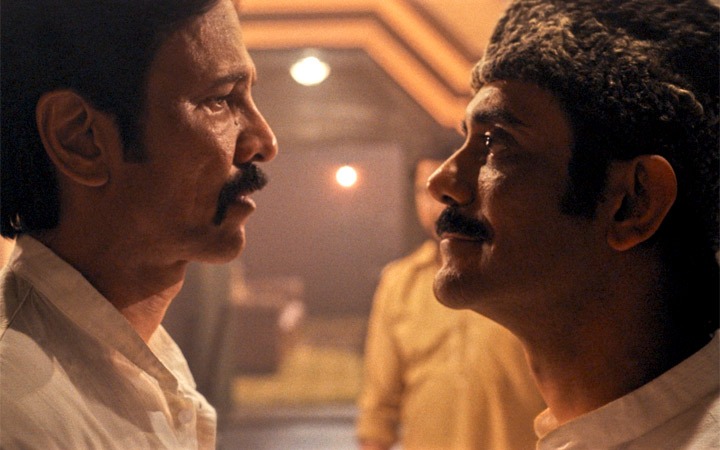 The series follows the rise of Dara Ismail, played brilliantly by Avinash Tiwary, in the world of crime and his relentless pursuit of power and wealth. It also shines a spotlight on the challenges faced by the police force in a city overrun by criminal gangs. The central themes of power, family, and the consequences of one's choices are explored with depth.
In his quest to overthrow the reigning underworld triumvirate of Haji Maqbool (Saurabh Sachdeva), Azeem Pathan (Nawab Shah), and Anna Rajan Mudaliar (Dinesh Prabhakar), who have effectively partitioned the city into three territories to divvy up the proceeds of their smuggling and extortion operations, Dara Ismail (played by Avinash Tiwary) emerges as a formidable force.
To combat this surge in criminal activity, a specialized task force known as the "Pathan Squad" is established, with Ismail Kadri (portrayed by Kay Kay Menon), a police officer of unwavering moral fiber, at its helm. The squad is tasked with the arduous mission of reining in these mafia kingpins. Despite their unwavering dedication and access to considerable resources, the squad finds itself unable to entirely eradicate the entrenched underworld.
The narrative of Dara Kadri's tumultuous journey is recounted exclusively from the perspective of his father, Ismail Kadri (brought to life by Kay Kay Menon). Ismail harbors a profound aversion to his son's deviant criminal pursuits, striving to create distance between himself and the quagmire into which Dara drags the entire family. This family unit includes Ismail's wife Sakina (Nivedita Bhattacharya), elder son Saadiq (Jitin Gulati), and younger siblings Ajju (Lakshya Kochhar) and Habiba (Kritika Kamra).
The show weaves a love story into the narrative, portraying a gangster's affection for the city he calls home. Dara's inability to express his love for Bombay, and his more ordinary affection for Pari (Amyra Dastur), the daughter of an Irani café owner, add layers to his character. Despite the odds, Dara refuses to give up on either Bombay or Pari, showcasing his resilience.
Kay Kay Menon and Avinash Tiwary, portraying a father and son with conflicting views, lead the cast. However, the supporting actors, including Jitin Gulati, Saurabh Sachdeva, Nivedita Bhattacharya, Nawab Shah, Vivan Bhathena, and Kritika Kamra, give remarkable performances, adding depth to the series.
The standout feature of "Bambai Meri Jaan" is its exceptional cast. Kay Kay Menon as Ismail Kadri, a cop of unwavering integrity, and Avinash Tiwary as his wayward son, deliver powerful performances that anchor the show. However, the supporting cast, including Jitin Gulati, Saurabh Sachdeva, Nivedita Bhattacharya, Nawab Shah, Vivan Bhathena, and Kritika Kamra, adds layers to the narrative with their compelling portrayals.
Cinematographer John Schmidt captures the gritty reality of gang wars, pushing the city to its limits. The series pits a morally upright father against his rebellious son, who discovers that honesty doesn't pay in a world ruled by fear.
"Bambai Meri Jaan" is not just a crime drama; it also tells a love story between a gangster and the city he considers his beloved. Dara's love interest, Pari (Amyra Dastur), adds complexity to his character.
The series begins in 1986 as Dara Kadri prepares to leave Bombay, hinting at the story's conclusion. It then jumps back to 1964, focusing on the Kadri family's struggles and Dara's gradual descent into a life of crime.
While inspired by true events, "Bambai Meri Jaan" takes creative liberties with its fictionalized account of the Bombay underworld. Most key characters, including Assistant Commissioner of Police Ranbir Malik (Shiv Pandit), are drawn from real-life inspirations.
While "Bambai Meri Jaan" may not introduce entirely new elements to the Bombay mafia narrative, it distinguishes itself with its powerful performances and exploration of complex family dynamics. However, the excessive use of profanity may deter some viewers. Ultimately, it's the actors who elevate this gritty crime drama, making it worth a watch for fans of the genre.