CAST: Satish Kaushik, Paoli Dam, Ashutosh Rana, Pranay Pachauri, Nitin Merani, Raza Murad
DIRECTED BY: Ravi Adhikari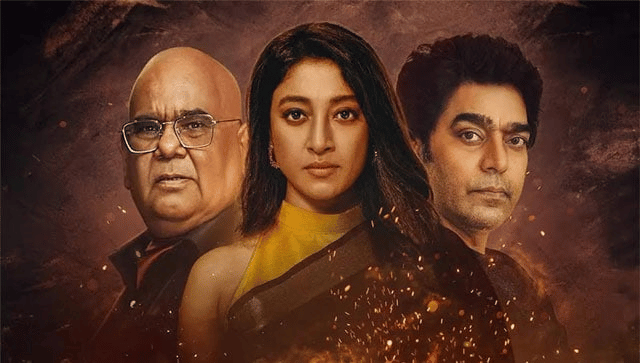 This family drama is set in the elite society of Kolkata and in the lives of the high profile Roy family. Bhisham Roy (Satish Kaushik) is the head of Roy Industries, but his paralysed younger brother Vardhan Roy's (Rajesh Khattar) wife, Indrani Roy (Paoli Dam) dreams of snatching the power and the status at the company. Bhisham's step brother Guru Shastri (Ashutosh Rana) brings in more complications in the Roy family. While each of them want to snatch power, to what extent they go, is what the series is about.
While there are questions about who will preside over the Roy Empire, the main plot is deemphasized with a mire of of sub-plots. A fire at one of their factories sets in motion an investigation, a political cycle of blame-game that also includes a filmsy Naxalite angle, media trials and student politics.
Indrani's son Abhimanyu (Ankit Bisht) is a sexual predator amply portrayed in his one-liners and demeanor.
Abhimanyu has a close friend in Samar, our resident hottie, Pranay Pachauri, who not only looks good but aces the role as well. Samar has a backstory that connects him to his father, a very curtailed Ashutosh Rana.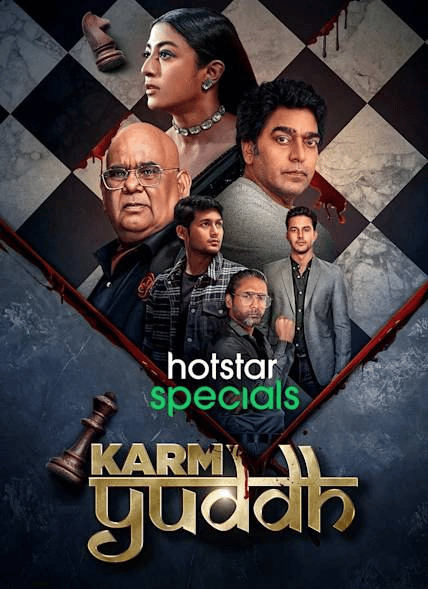 Performances are the brightest spot in the cluttered canvas of Karm Yuddh. Paoli Dam is excellent as the strong-willed Indrani Roy. Her power woman face delivers the goods for Indrani's character. Satish Kaushik is superb , sliding into Bhisham with ease. Ashutosh Rana seems far from his usual comfort in the role he's been cast in.
Pranay Pachauri is excellent and delivers perfectly. He hits just the right acting chops as Samar. Ankit Bisht perfects Abhimanyu Roy's cringe. Chandan Roy Sanyal is a little overtly excited as the dubious newsman, Bagchi. Nitin Mirani makes an impressive web debut as CBI officer Raghuveer. Anjana Sukhani, Tara Alisha Berry and Soundarya Sharma are great as supporting cast.
The series tries to emulate Succession or Dynasty but fails in that endeavor because of its sub-plots that take the audience attention away from a focused main plot. The show covers environmental impact of dodgy corporations; corporate sabotage; the naxalite angle; an ill-fated romance; illegitimate kids and their legitimate concerns; family power grabs, betrayals and conspiracies; a relentless bunch of police investigators digging around for dirt on the corporate biggies; untrustworthy media personnel, boardroom intrigue and the now mandatory same-sex romance angle.
Have we missed any on the list? Chances are – we did not. We are baffled and bewildered that the story packed all that punch in each of the eight – 40 min episodes.
Srijan Vinay Vaishnav's background score works in sync with the overall narrative of Karm Yuddh. Sunita Radia's camerawork is good. Sanjay Sharma's editing is efficient. Ravi Adhikari's direction is good despite the multifarious screenplay.
What any of this does not take away from the series is its superb cast and their brilliant performances. If any, this is enough reason for you to watch this family drama on Hotstar on Hulu.