"Legendary warrior Po teams up with an elite English knight on a global quest to rescue magical weapons, restore his reputation — and save the world!"
Title: Kung Fu Panda: The Dragon Knight
Cast: Jack Black, Rita Ora, James Hong
Director: Mitch Watson, Peter Hastings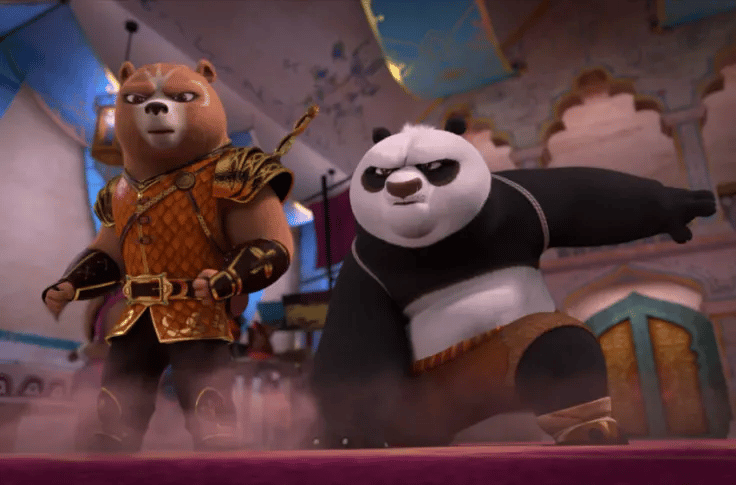 "Kung Fu Panda: The Dragon Knight" season 2 is the latest installment in the beloved animated action comedy series based on the film franchise. The series, developed by Mitch Watson and Peter Hastings for Netflix, premiered on January 12, 2023 and features the voice cast of Jack Black as Po, Rita Ora as Wandering Blade, and James Hong as Mr Ping.
The new season picks up right where the first season left off, with Po and his team traveling to India to capture the evil weasel siblings Veruca and Klaus Dumont and find the four magical weapons, which if fallen into the wrong hands, can lead to disastrous catastrophes. Along the way, the squad encounters new characters, delicious delicacies and breathtaking specialties.
One of the standout features of the second season is its fast-paced and tightly-knit action sequences, which never fail to keep the audience engaged. The characters and their arcs are also well-developed, making the audience invested in their journey despite them being different from the original "Furious Five" lineup.
However, the animation production quality of the series is a notch lower than the movies. Po's character design is the same as in the films, but Blade's art falls short in comparison, with her design appearing less lively and more 2D-like compared to Po's 3D character design.
Despite this, the friendship between Po and Blade is one of the highlights of the series, with Po's charming personality rubbing off on everyone, including Blade, who struggles with her identity crisis. The series also provides a deeper insight into Po's father Mr Ping, whose character arc is left open for future chapters.
The final episode of the series, however, is a bit of a mixed bag. While it wraps up the main storyline, it also feels like a disjoint short story that doesn't hold much consequential value. It serves more as a post-script message and a laid-back, lighthearted farewell to the audience.
Overall, "Kung Fu Panda: The Dragon Knight" season 2 is a worthy continuation of the beloved franchise that keeps the audience engaged with its fast-paced action, well-developed characters and arcs, and a deeper insight into Po's father Mr Ping. While the animation production quality may be a notch lower than the movies, it doesn't detract from the overall enjoyment of the series. So it is a good watch for the fans of the franchise and for the people who love action-comedy.