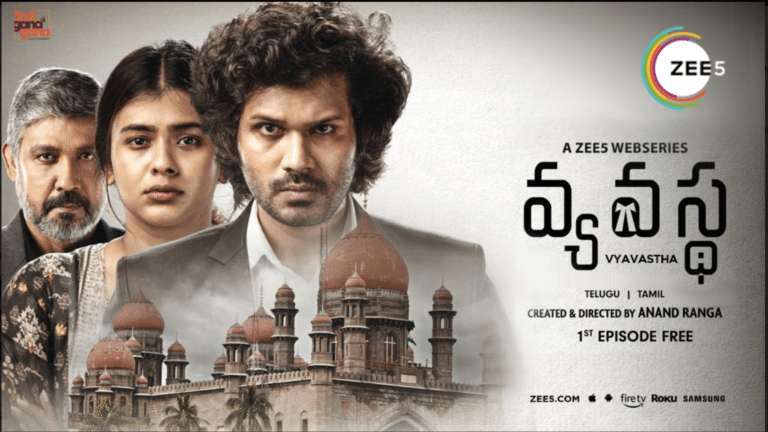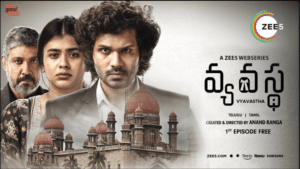 Headlined by Anand Ranga, the courtroom drama follows a story about two sharp characters that provides insight into the profession of law and influence of money in the administration of justice. The series features an ensemble cast with Karthik Ratnam, Sampath Raj, Hebah Patel, Kamna Jetmalani, Sukurtha Wagle, Shivani, Sujith Kumar Reddy, Raja Ashok and Gururaj in prominent roles. The series will stream on the platform on 28th April 2023.
Spanning across 8 episodes, the courtroom drama series is about two strong-headed lawyers, one is a power-hungry lawyer – Chakraborty and the other is an underdog – Vamsi.  Vamsi is low on self-confidence due to his stammering problem and is not interested in practicing law. But when his ex-love interest is accused of murder, he decides to take up the case and challenge a senior and powerful lawyer. They battle it out in the courtroom to determine whether Yamini (played by Hebbah Patel) murdered her husband. Will Vamsi manage to prove Yamini's innocence or there will be a twist to the tale?
This series is a clash between opposing ideologies, backgrounds, mindsets and two sides of the law. The audience can watch this Telugu original on ZEE5 Global.
Archana Anand, Chief Business Officer, ZEE5 Global said, "At ZEE5 Global, we take pride in delivering quality entertainment to our viewers. We have been showcasing compelling narratives across different genres and our Telugu library is exceptionally powerful. We are excited to now present Vyavastha, a courtroom drama that delves deep into the legal profession and the impact of money in the judicial system. We look forward to presenting more such stories that will both resonate with and entertain our audiences. "
Talking about the launch of the new show, Mr. Anuradha Gudur, Chief Cluster Officer – Telugu, ZEE Entertainment Enterprises Limited said, "We are thrilled to announce our new Telugu show, Vyavastha, which offers a unique and authentic portrayal of the legal system, following the journey of a young lawyer as he faces seemingly insurmountable challenges with perseverance and determination. Over the years, we have seen Telugu viewers being drawn towards inspiring stories, and this show beautifully depicts these values, through an engaging and captivating storyline. Furthermore, there has been a dearth of legal dramas in the Telugu entertainment industry, and Vyavastha aims to fill this void with its exploration of the untapped potential of the genre. We believe that our show will resonate with audiences, offering a gripping narrative and addressing the evolving preferences of viewers in the region. At ZEE5 Global, we are committed to diversifying our content offerings and providing fresh, innovative programming for our audience. We are confident that Vyavastha will be a welcome addition to our Telugu lineup, offering a dynamic and authentic representation of the legal system and the human spirit."
She added, "Under the direction of Anand Ranga, our talented star cast, which includes Karthik Ratnam, Sampath Raj, Hebbah Patel, and Kamna Jethmalani, is poised to deliver an authentic and emotionally engaging performance that will resonate with audiences."
Director Anand Ranga said, "The story takes you through the life of a young law graduate who takes up a case against a mighty lawyer, and faces a lot of challenges and setbacks in the process. We have tried our best to showcase all the legal processes in an authentic way. Each character is carefully sketched and the entire cast has performed to the best of their potential. We couldn't have found a better platform than ZEE5 Global to platform this series. I hope the viewers will love it as much as I loved creating the series."