After managing to bring their dream into reality, the group of friends who call themselves 'Pitchers' manage to finally create their very own start-up. Named Pragati AI, the start-up has created a massive buzz but there is also a dent in the friendship where Jitu is absent and the rest three are now running the show. We meet them seven years later we meet them at a time of crisis and there is new challenge for them to face.
Title: TVF Pitchers
Cast: Naveen Kasturia, Abhay Mahajan, Arunabh Kumar, Riddhi Dogra, Abhishek Banerjee
Director: Arunabh Kumar, Vaibhav Bundhoo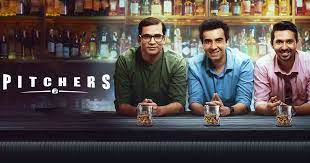 Social Media apps have been blooming in all sorts of variations. In the midst of the 2010s, across the world social media influencers began careers as the lucrative content market started to boom. In 2015 especially, India took interest in this market. TVF "The Viral Fever" understood this demand and created content that would spark a startup boom in India. Born was Pitchers that created a storm of sorts and taught us the world of start-ups. After 7 years of work, the makers are here to show us how its done.
Arunabh Kumar as a writer has been giving us relatable content about things that happen in our everyday lives. It could be about our next door neighbor or a boss that we may dislike, but his writing has been a favorite of many households across India. Connecting us with the realities of the world we live in, Kumar has created stories that we can all relate to.
Now he is ready to tell his story and give us an intricate show about creating a startup and the nuances that come with it. In the second season of TVF Pitchers, we see more of what building a startup looks like after the idea phase. In the first season, the cast lived up to the name and became "pitchers", pitching ideas that hopefully turn into a lucrative business. Now, Kumar shows us what it is like to actually build the idea into a real product. In this season, we get a view on building and leading a team.
One thing to note about this season is there were a lot of moments that felt really staged and artificial. Some of the conflicts between the cast felt very forced and the lesson that was supposed to be learned was very forced. As compared to Season 1, which was filled with great comedic lines, this season fell somewhat short of. Season 1 was highly acclaimed, however this one seemed very mechanical in its plot and character dynamics.
There were some great performances in this season that are always worth mentioning. Arunabh Kumar playing himself as the character Yogi was very easy to watch. Kumar seemed very comfortable playing himself and I do not think there could have been anyone better than the man himself. Naveen Kasturia is great at playing the goofy characters and even though they gave him less room this season to do so, he was a pleasure to watch in this film.
All in all, this was an alright watch. Season 1 was definitely a bit better but I did find myself satisfied to have watched this new installment. I recommend this as a one time watch and will be excited to talk about it on the next episode of Red White and Brown!